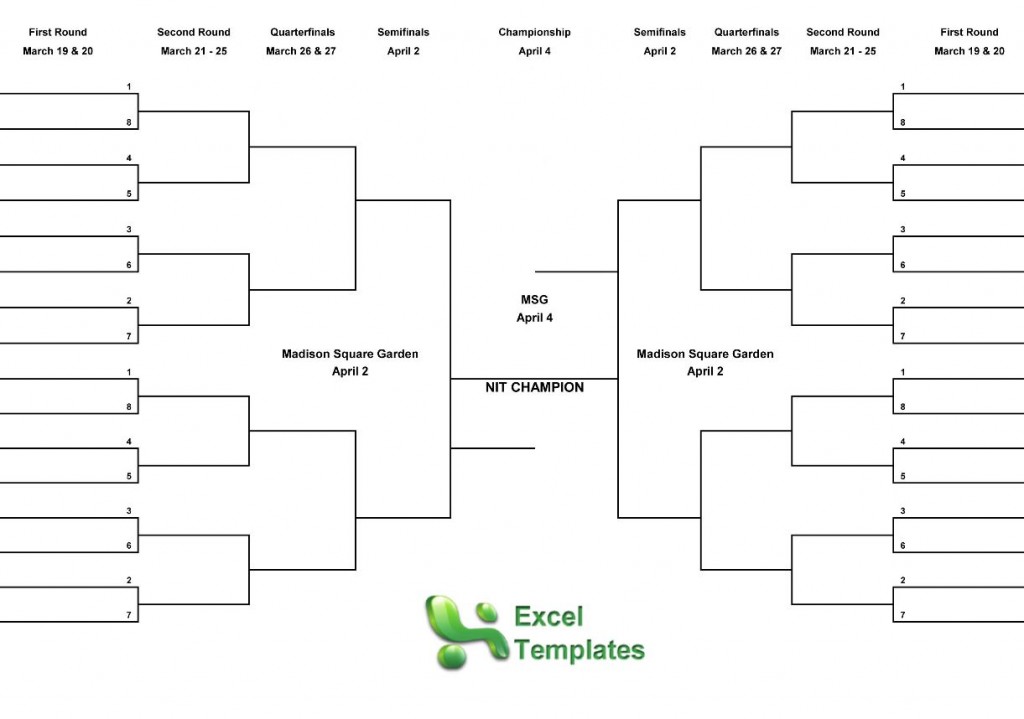 The 2016 National Invitation Tournament will get underway on March 19th. The NIT Tournament features 32 schools that were not selected to participate in the NCAA Tournament. The championship game will be held at Madison Square Garden on April 4th. Fans can follow the NIT with a printable bracket. The sheet can be downloaded for free instantly below.
NIT Tournament History
The NIT actually pre-dates the NCAA Tournament by one year. In addition, the event was viewed as more prestigious than the NCAA Tournament for many years. The first NIT in 1938 had only six teams. Temple took down Colorado in the first-ever championship game in '38.
The field for the tournament expanded several times, and had as many as 40 teams before reverting back to its current 32-team format in 2007. The NIT was operated by the Metropolitan Basketball Writers Association until the NCAA purchased the rights for 10 years in 2005. The NCAA shelled out over $56,000,000 for the rights to the tournament.
St. John's has appeared in the NIT 16 times and won the event a record six times. Bradley is second on the all-time list with four titles, while Dayton and Michigan have been tournament champions three times apiece. Stanford defeated Minnesota for the championship in 2012. St. John's, Minnesota and Michigan have had title wins vacated in 2003, 1998 and 1997, respectively.
A Most Valuable Player award has been handed out every year of the tournament's existence. Some of the notable players to take home MVP honors include George Mikan, Lenny Wikens, Walt Frazier, Ralph Sampson and Reggie Miller.
The NIT doesn't receive anywhere near the respect or acclaim as the NCAA Tournament does today. Because the field is comprised of the teams that failed to be included in "March Madness," the NIT has been dubbed by some the "Not Important Tournament," "Not Invited Tournament" and the "Nobody's Interested Tournament."
There has also been a preseason NIT every year since 1985. Duke dropped Kansas, 92-86, in the inaugural championship game. Michigan knocked off Kansas State, 71-57, in the title bout in 2012.
Download: NIT Tournament
Related Templates:
X
Your free template will download in
5 seconds
.
View this offer while you wait!