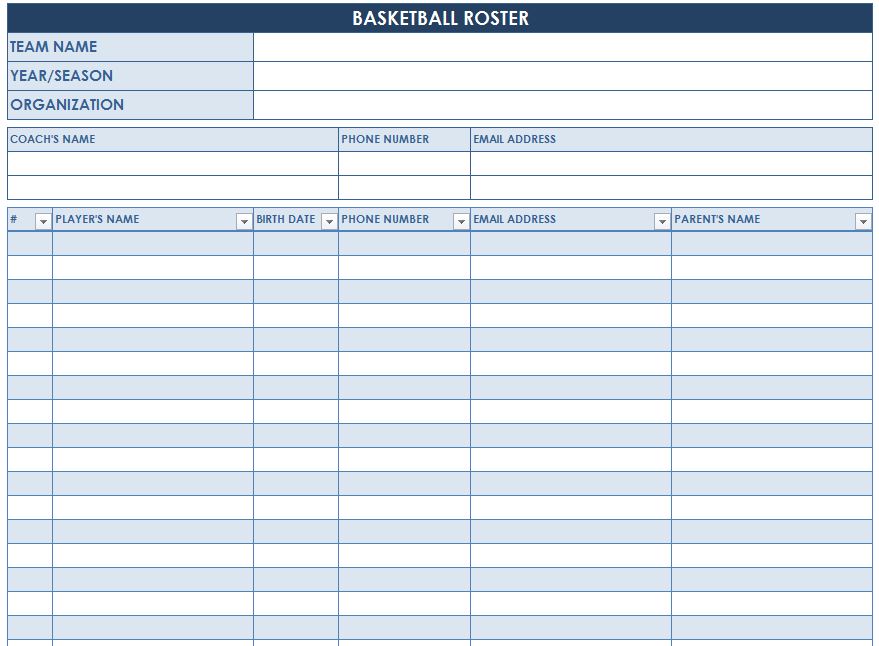 Coaching basketball can be a fun experience. Teaching fundamentals and watching players grow are two of the reasons a lot of people begin coaching. However, becoming organized and keeping up with all the details can be difficult for any coach. Whether you're an organized school coach or a neighborhood volunteer, keeping an up-to-date roster is an absolute must. One of the best things to keep handy is a roster to get in touch with team players when things happen with the schedule. The basketball roster template can help with this problem for coaches of any experience.
The basketball roster template is easy to download for every coach. It is free and available to use starting right now. Keeping and accurate roster is no longer a difficult task. This roster is simple to adjust for each new team. Follow a few quick steps and the roster will be ready in just a few minutes.
Using the Basketball Roster Template
First, simply download the document and save on your personal computer. It is a good reference to keep for many seasons down the road.
Second, type the team name and particular season into the basketball roster template. Then save the roster as a backup to refer to and keep track from year to year.
Third, alter the columns for the specific data that is needed.
Fourth, type in the names of every basketball player and the requested information in each column.
Making the Most of the Basketball Roster Template
First, a blank copy is good to have for making changes from year to year since every team does not have the same players.
Second, keeping up with each roster is simple when each roster is saved by its exact team name and particular season.
Third, keep at least one copy ready for any adjustments during the season.
Fourth, enter any adjustments when they occur to ensure the most precise information.
Coaching is a rewarding time. Teaching fundamentals and watching young people learn makes all of the logistical work easier to do. With all of the information a coach must keep track of, using the basketball roster template can aid with one of those details that go into running a winning and fun team.
Download: Basketball Roster Template
Related Templates:
X
Your free template will download in
5 seconds
.
View this offer while you wait!