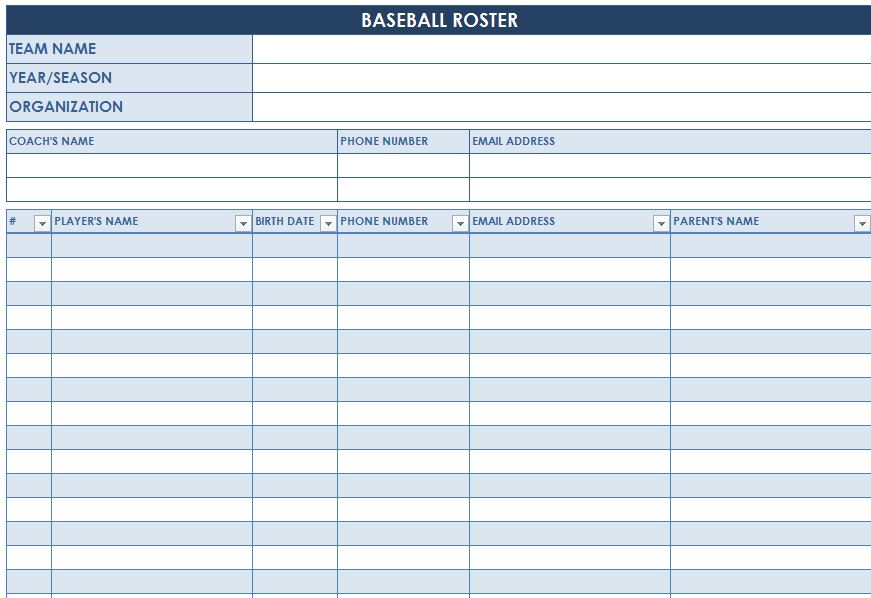 Coaching baseball is one of the best experiences to be found. Teaching simple skills and developing players are two reasons many people become coaches. However, there is a lot more that goes in to coaching baseball. There are a lot of details to organize and this can be difficult for many coaches. It doesn't matter if a person is coaching for a school or the local little league, organizing a player roster is one of those difficult details that must be done. It is essential to have an accurate roster to make contact with players and parents when changes occur. The baseball roster template can aid with this issue for coaches on every level.
The baseball roster template is a free download for all coaches. It is available for immediate use as soon as it is downloaded. Maintaining a precise roster can be done easily with this template. The document is simple to alter for every new team. With just a few simple steps to follow, the roster can be completed quickly and easily.
Using the Baseball Roster Template
First, downloading the file and saving it on the desktop is easy. Keeping the template for your records provides something to refer to in the future.
Second, entering the name of the team and baseball season into the baseball roster template and saving it under this name allows coaches to locate team rosters from past seasons.
Third, changing the columns for the exact information makes each roster unique.
Fourth, entering the names of every baseball player and the documented information in each column is simple.
Making the Most of the Baseball Roster Template
First, a blank copy is the perfect way to track changes from season to season given that each team will have different players.
Second, each team roster should be saved separately to allow for tracking different players each season.
Third, carry a roster to make any adjustments that occur.
Fourth, update the roster with accurate data whenever changes are made.
Coaching is fun. Teaching young players the basics of the game is rewarding. It makes all of the other work worthwhile. Using the baseball roster template allows coaches to enjoy the opportunity to coach instead of worrying about all of the other details concerning the roster.
Download: Baseball Roster Template
Related Templates:
X
Your free template will download in
5 seconds
.
View this offer while you wait!