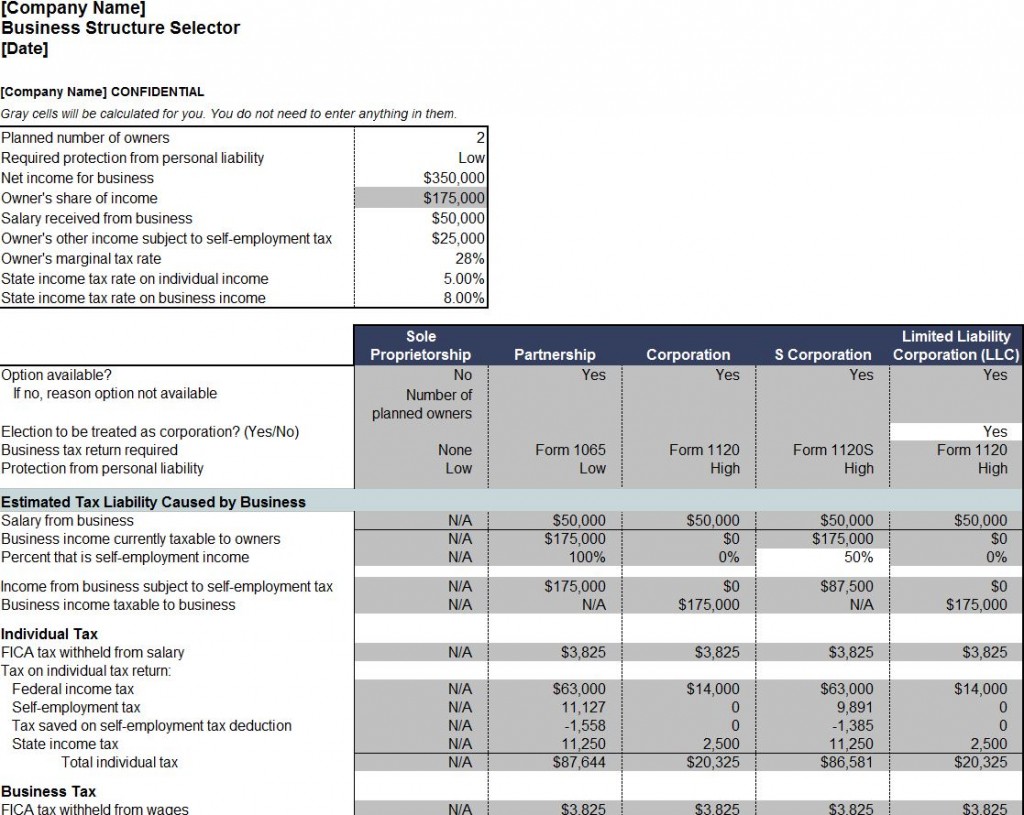 When it comes to business, you want to choose a structure that will give you the best opportunity to succeed. This can be accomplished with a business structure selector. The thing to understand is that the structure you choose will have a huge impact on how much taxes and legal protection benefits you can receive.
This is where using a business structure selector can help. It will also affect the amount of taxes that you will pay and the amount of paperwork and personal liability that you have.
How To Use A Business Structure Selector
The first thing that you will want to do with your business structure selector is to add in the information like the company name, the date, the planned number of owners, net income for your business, owner's share of income and the salary received from your business. This template is available for free, so you can try it risk-free.
When you fill in the top box of this template, the information below will automatically be calculated for you, so don't do anything with the information below the top box. This template is automatically customizable.
Once it has been calculated, then you will review the rest of the template to decide on a business structure. For example, if you have a low need for protection for personal liability, then sole proprietorship or a partnership would be a good choice for you. Every business is going to be different. This template is easy-to-use and quick to download.
Tips For Using A Business Structure Selector
Consider hiring a business professional to help you. You want to hire a business professional because they can review your structure selector and decide which structure would be the most beneficial for your company. It is well worth the investment because it could save thousands of dollars
Consider these four factors when looking at the structure: Costs, capital, legal liability, management requirements and taxation requirements.
Understand that no business structure selector will be best for every business because every business is going to have different needs. The great thing is that you can always change your structure later to meet your needs.
A business structure selector can help you to make the most informed decision and save thousands of dollars. This template is free so what do you have to lose?
Download: Business Structure Selector
Related Templates:
X
Your free template will download in
5 seconds
.
View this offer while you wait!