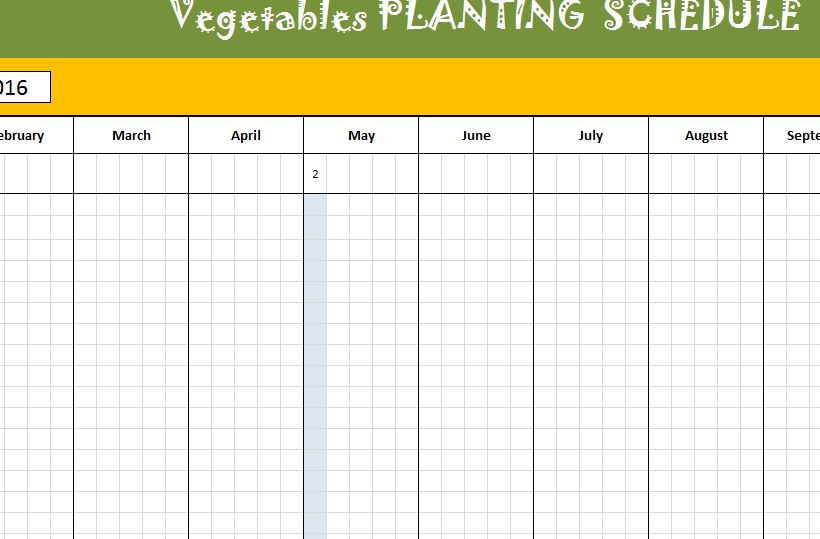 Planning the perfect garden takes time and effort, but the free Vegetable Planting Schedule just makes your life a little easier. Consider this free template as the blueprint to your perfect garden. This free document allows you to keep track of each plant and make sure they receive the care they need. As we all know, some plants need more sun than others or more water, they each require certain care to make them grow big and strong. Trying to memorize all this information can be confusing and frustrating. However, you can have all that information ready at the click of a button, just read the instructions to download and use this template below.
Using the Vegetable Planting Schedule
The free Vegetable Planting Schedule is made available by clicking the link at the bottom of this page.
Next, you will need to create a running list of all the plants you use and all the plants that you will want in the future. You don't have to use them for your garden now, but they may be handy later on, as you continue to increase the size of your garden overall.
The main table is you actually get to start planning things out. Start by listing the name of the fruit or vegetable in the first column. You can use the drop down menus for this system to make things easier.
You will next want to specify if the plant is either indoor or outdoor.
Next, if you're planning on transferring a plant, you can enter the number of weeks it will take to grow strong enough to place outside in the next few columns of the template.
Using the main calendar at the center of the Vegetable Planting Schedule, you can keep track of when your plants are ready to be eaten. Just use the legend at the bottom of this page and enter the appropriate mark in the boxes above in their corresponding months.
You can finally organize your garden and no plant will go to waste with this free template.
Download: Vegetable Planting Schedule
Related Templates:
X
Your free template will download in
5 seconds
.
View this offer while you wait!