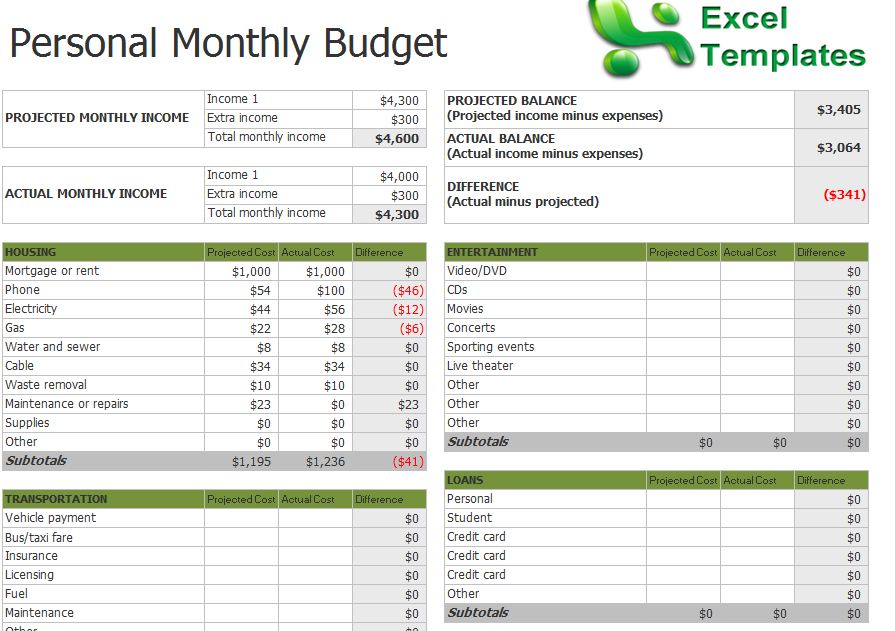 Constructing a monthly budget is something many people would simply rather not do. Marking down and laying out where all your money is going can be a frustrating and excruciatingly time-consuming process. However, creating a budget is one of the building blocks of a strong financial foundation. The monthly budget planning Excel template available on this site can do the bulk of the work for you.
The template serves as a calculator and will reveal all the important financial figures once the information has been input. This instantly downloadable template is available for free right here.
Using the Monthly Budget Planning Excel Template
The monthly budget planning Excel template available on this site is among the most comprehensive available on the internet today. Cent-by-cent, you will be able to see where all your money is going. The first box on the template is reserved for your projected monthly income. Just below is a similar box for actual monthly income. To the right is the projected balance minus expenses, the actual balance minus expenses and the difference. This will serve as your financial foundation to work from.

There are 12 major categories for monthly expenses. The categories are:
Housing
Entertainment
Transportation
Loans
Insurance
Taxes
Food
Savings or Investments
Pets
Gifts and Donations
Personal Care
Legal
Next to each category in the monthly budget planning Excel template is a column for the "Projected Cost," the "Actual Cost," and the "Difference." Within each category is a set of sub-categories. For instance, within the "Entertainment" category is the sub-categories video/DVD, CDs, Movies, Concerts, Sporting Events, Live Theater and Other.
You will simply put in the amount you anticipated on spending and the amount you actually spent into the sub-categories and the template will calculate the difference. Once this has been completed, the subtotals for each will appear at the bottom of the selected category.
The process of entering information will be repeated for all the categories to determine the total projected cost, the total actual cost and the total difference. The numbers may not always be what you want to see, but the monthly budget planning Excel template will always give you a better understanding of your finances and offer ways to help save money.
Download: Monthly Budget Planning Excel Template

Related Templates: