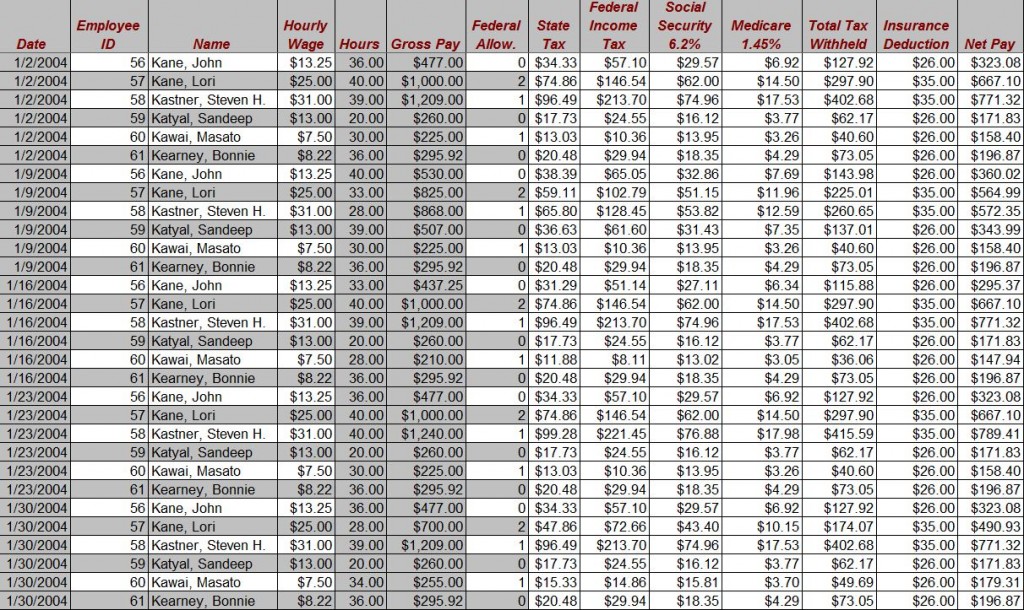 Keeping efficient payroll records is important for any business. These records are necessary to file business tax returns at the end of the year as well as for filing monthly and quarterly reports for Federal payroll taxes and monthly and quarterly state reports. This sample payroll register is a great tool for any business owner to control their payroll records and have more opportunity to manage payroll costs. It is also completely customizable to meet the specific needs of any industry. Keep reading for easy to follow tips and instructions to use this free, customizable sample payroll register.
How to Use the Sample Payroll Register Template
First, create any customizable company information. Be sure to include your company name, address, phone number and any other important information that pertains specifically to your company. Remember, this template is free and easy to use, and it is completely customizable so that you can include any information you deem to be important.
Second, create any necessary fields to track all aspects of employee payroll. Include all withholding types and any fields that are specific to your company such as 401K deductions or health insurance deductions.
Third, enter all employee information. Include each employee's pay rate, withholding rates and special deductions.
Tips on Using the Sample Payroll Register
First, you must consider that this sample payroll register is the only record of payroll you may have for that particular payroll period. Be sure that you have added any information to the fully customizable report to assist you in keeping completely accurate payroll records for state and Federal reporting.
Second, take advantage of the data collected in these reports and track your business payroll expenses. This free to use tool is a wonderful way to track payroll expenses and make necessary adjustments in your company.
Third, be very sure to back up your sample payroll register every time it is used and to keep a complete archive of records. You could be asked to prove certain aspects of payroll during a tax filing or payroll reporting. It is important to keep these payroll records to justify deductions.
Payroll can be a complicated part of doing business for any company. Use this free, customizable report to make your payroll tracking easy and efficient.
Download: Sample Payroll Register
Related Templates:
X
Your free template will download in
5 seconds
.
View this offer while you wait!