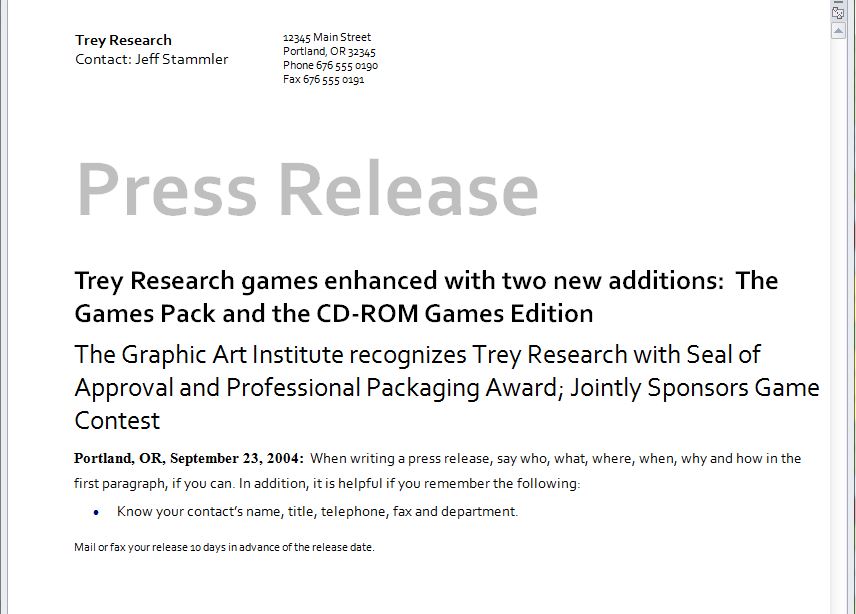 A press release is a mock news story. A press release capitalizes on the interest by placing emphasis on the newsworthiness of an upcoming event, such as a past event, person, place, company, or product. The goal is to catch the attention of editors and the media. As well as to notice the importance and significance of the press release so that they might pursue it further or even feature the story. With the Press Release Template, creating the perfect press release is easy to accomplish with the easy to use customizable format and it is free to download.
How to Use the Press Release Template for Outlook
In the upper section of the email are three horizontal fields. The first field is to who will receive the email. Either type in the email addresses, or click on the "to" button to the left of the field. This will bring up the address book where one can add multiple recipients. The second field is to carbon copy the email; this is an optional step. The third field is where the subject of the email.
Change the default text in the upper left corner of the email. Type "FOR IMMEDIATE RELEASE" or "HOLD FOR RELEASE UNTIL…" and a date for release; these should appear in all caps. Underneath is the contact name, followed by the adjacent fields with the corresponding company contact information.
The grey press release watermark can remain untouched.
The next section of the press release template is the headline in bold lettering, followed by the sub headline that is the same size font, but not in bold.
Replace the body of the press release with the new article. The body should contain five sections of 2-5 sentences each, approximately a 400-word article.
Type "END" or "###" in bold caps to indicate the article is at its end.
Send the email.
Tips for Using the Press Release Template for Outlook
Click on the paperclip icon to add an attachment.
Assign restrictions to the email by clicking on the yellow envelope under the options section.
To delay the delivery until a future date, click on the white envelope icon under the options section.
Use the Review tab to correct spelling and grammar issues.
The pre-formatted press release template saves valuable time. Instead of worrying about formatting, the author can focus on the content. Get the attention it deserves.
Download: Press Release Template
Related Templates:
X
Your free template will download in
5 seconds
.
View this offer while you wait!