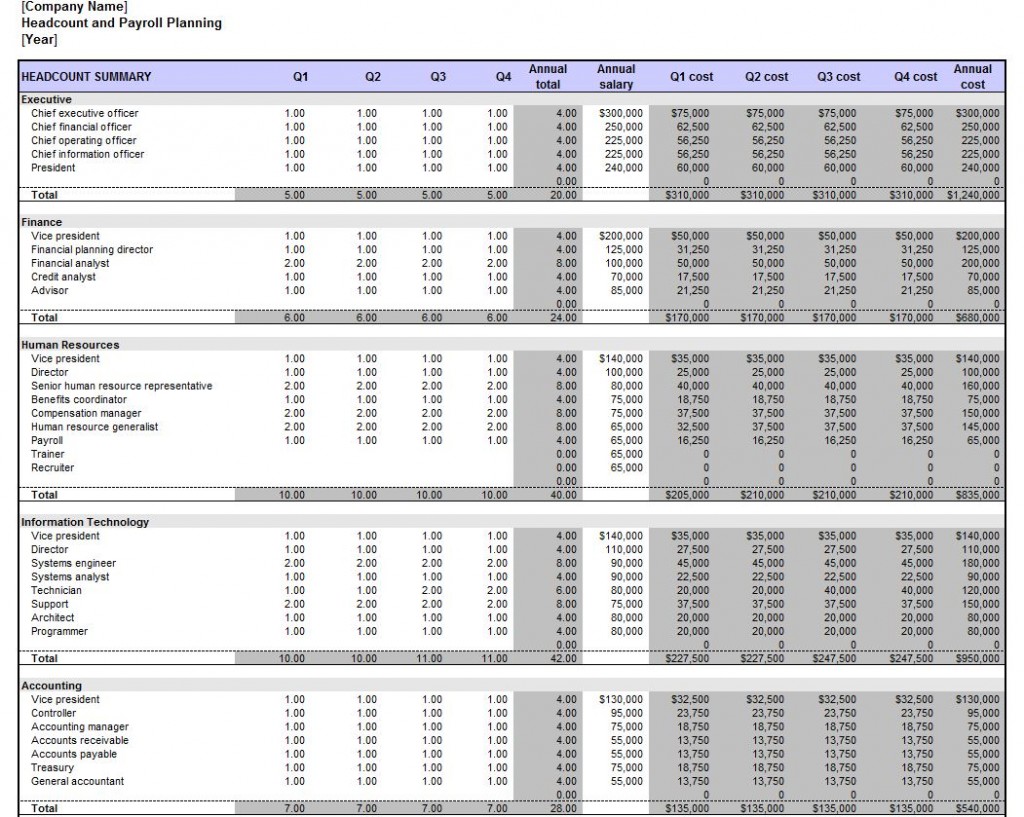 You want your business to be as profitable as possible. When it comes to running your business successfully you need to have a good system in place which allows you to keep track of your company's headcount and take care of your payroll planning with ease. When you use the correct forms you will find that keeping track of this information will be simple and convenient. Our headcount and payroll planning worksheet is the perfect solution.
Our headcount and payroll planning worksheet will assist with forecasting and planning for the company's annual headcount, as well as its total compensation. Not only does our worksheet account for expenses such as fringe benefits for example, but it will also help to forecast your company's compensation expense by using the projected number of staff per quarter within each of the departments. The worksheet can be downloaded quickly and provide your company with a valuable tool which will make things easier on your staff.
How to Use the Headcount and Payroll Planning Worksheet
The first thing you need to do is download the worksheet template which is available on this page for free.
You will find this template very easy to customize for your needs. It's fully customizable design allows you to enter the pertinent information quickly and in a structured manner.
You can download the headcount and payroll planning worksheet template right here for free and begin using it for your company's headcount and payroll needs.
Tips for Using the Headcount and Payroll Planning Worksheet
Start with downloading the worksheet template for free off of this site. It only takes a moment to download it and you won't be charged.
Once you have downloaded the template you want to you will need to choose an extraction program to extract the template. After it is extracted you will double click on it to open it. The process for downloading and using the template is a step by step one.
Make sure the proper department teams are provided with access to the worksheet and enter all the relevant information correctly.
Download: Headcount and Payroll Planning Worksheet

Related Templates: