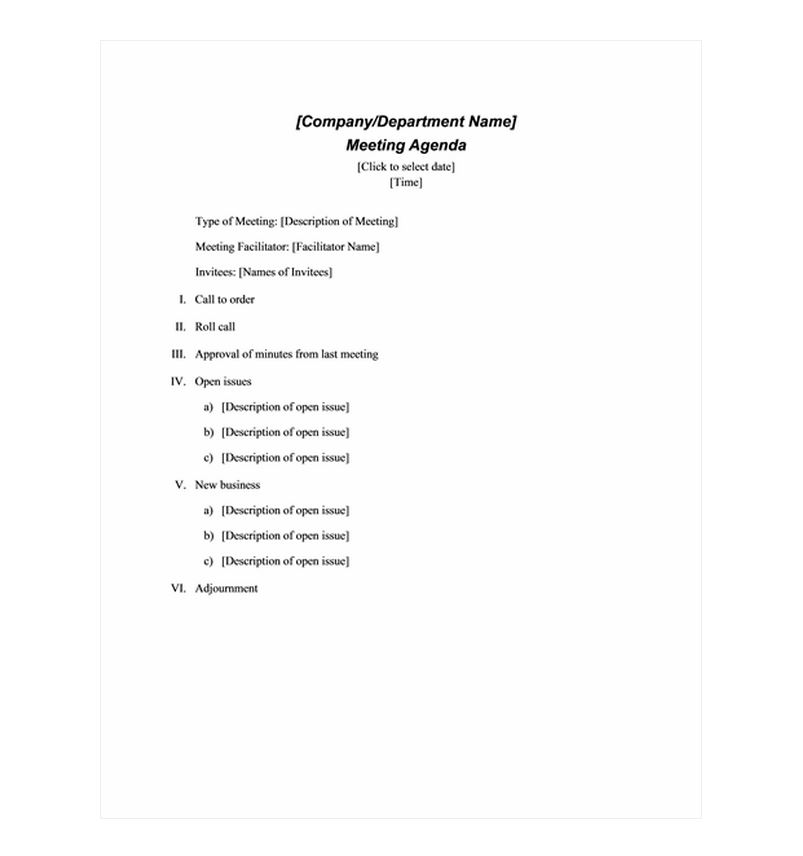 Utilizing an agenda for a meeting can be an incredibly effective way to ensure that you hit on all the important facts facing your business operation. This can be important because you will want to make sure that these meetings are an efficacious use of the company's time. You will want to show your superiors that you are making good use of resources within your department. This guide will demonstrate how you can use this simple and easy formal meeting agenda template to streamline these events.
Starting With the Formal Meeting Agenda Template
The best thing about this template is that it is free and easy to download straight off of the website. Once downloaded, you will simply need to open it in Microsoft Word and begin editing it. It is very easy to customize, so you will just need to think about what will be important to discuss in your meeting.
Even though this formal meeting agenda template is incredibly easy to use, you will still want to give yourself ample time to input everything that you need. Set aside a small block of time early in the morning to jot down your ideas. Once you have downloaded the free template, you will have some time to customize it and see how the style fits your needs.
Customizing the Formal Meeting Agenda Template
Once you have downloaded the template straight, you may begin to think about some important points you want to talk about. Try to think about how the meeting should flow and what you don't want to leave out. Feel free to make several different drafts of this template before you settle on just one. Since it is so easy to use, you will have plenty of time to consider all the possible topics of discussion.
Topics to consider:
Ongoing issues
Budgetary needs
New issues
Votes on issues
All of these items can easily be incorporated into the existing formal meeting agenda template that you can download. The template online already has a very formalized look, so you won't need to worry about increasing its professional appearance. Rather, just focus your effort on creating the best possible meeting notes. Take stock of how many items you discuss during the meeting. When you customize this template, you may want to make sure you're including an optimal number of topics
Download: Formal Meeting Agenda Template
Related Templates:
X
Your free template will download in
5 seconds
.
View this offer while you wait!