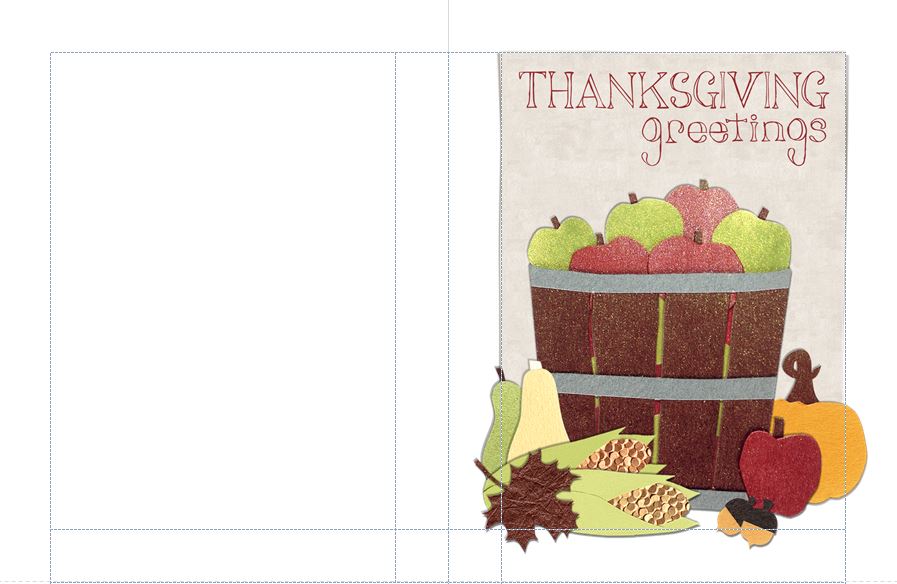 Thanksgiving card templates can be a great way to show that loved one that you are thinking of them and are grateful for them during the holiday season. Whether they be close by, or celebrating far away from where you happen to be, it is always a great gesture to let someone know that they are close in your thoughts.
Shopping for a Thanksgiving card in a brick and mortar store can be a arduous task. It is always a bit of a crap shoot, trying your luck and hoping the store you visit will have just the right sentiment you wish to evoke. What's great about Thanksgiving Card templates are they are available for free on this page. Thanksgiving card templates are totally customizable. Everything about it is changeable. You may edit the graphics, the word art, the salutation, the body text, and the sign off. This makes the possibilities virtually endless for how you may choose to make your card.
Thanksgiving Card templates is also incredibly easy to use. It is available for download right here and right now. With just a few clicks of your mouse, you can be editing a Thanksgiving card and printing it on your printer at home.
Using the Microsoft Thanksgiving Card Templates
If you download Thanksgiving Card Templates, the guess work of going to a brick and mortar store is removed from the equation. You can have the beautiful artwork and initial lead in that professional artists intend, but you are given an excellent springboard to conveying just the right message to your loved one. Here are some steps to consider in using your template.
Download the Thanksgiving Card template.
Save the template in a place you'll remember and be able to find it later.
Open the template in Microsoft Word.
Edit text and graphics in each of the editable fields of the Thanksgiving Card Template as desired.
Experiment with different changes in word art, in graphics, in the salutation, body text, and sign off.
Save and print your card.
Each page printed from the Thanksgiving Card Template will generate two cards. The Thanksgiving Card templates have cut and fold lines so you can see where to cut and fold the cards after they are printed out. Fill in all customizable information such as who the card is from, and who it is meant for, and that special greeting you have crafted for your loved one. Don't forget the salutation and an appropriate sign off as well, and have a Happy Thanksgiving yourself!
Download: Thanksgiving Card Templates
Related Templates:
X
Your free template will download in
5 seconds
.
View this offer while you wait!