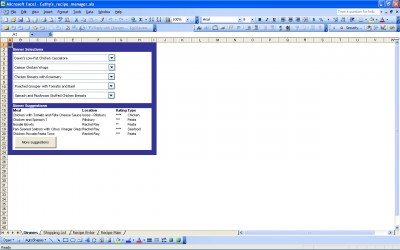 Find Recipes and Make Lists Easily
Many home cooks love to change recipes to make them their very own. Jotting down changes to the ingredients and preparation instructions in the margins of the cookbooks can be an effective way to keep track of small personal touches to recipes of all sorts; but many home cooks have found that they need a more reliable way to keep track of these changes, as well as the recipes that have been passed on through the family for generations. Using a recipe manager spreadsheet or recipe manager template may be the solution many people have been searching for.
Recipe manager template programs and recipe manager spreadsheets are effective tools that can be used by home cooks of all levels. Even those who don't have a lot of experience using computer software will find these recipe managers easy to use and extremely convenient for finding their recipes quickly and easily. You can get your recipe manager template for free here!
More Than Just Ingredients and Preparation
Imagine being able to select recipes from a recipe manager spreadsheet and then be able to select a function that generates the entire shopping list for a weeks' worth of recipes! A manager template can provide that convenient service for any user. With the help of this great function, home cooks no longer have to check and double check all of the recipes they intend to use before going to the store- and they will never have to worry about missing that one (and always important) ingredient required to prepare a dish.
Recipe Manager Spreadsheet Use in the Culinary Industry
Recipe manager programs equipped with recipe manager template are perfect for the busy restaurant. The head chef can easily put the weekly specials recipes or other menu recipes into the recipe manager spreadsheet and generate a shopping list to give to management before the orders for the week are placed. Using a recipe manager in a restaurant prevents many menu-related miscommunications, and can save the management quite a bit of money as the shopping list will provide a look into how much of each item needs to be purchased, and which items could be purchased in bulk.
Using a recipe manager with recipe manager spreadsheet and recipe manager template functions can take the hassle out of menu planning; and it keeps recipes stored safely on the computer or flash disk where they are merely a click away!
Related Templates:
X
Your free template will download in
5 seconds
.
View this offer while you wait!