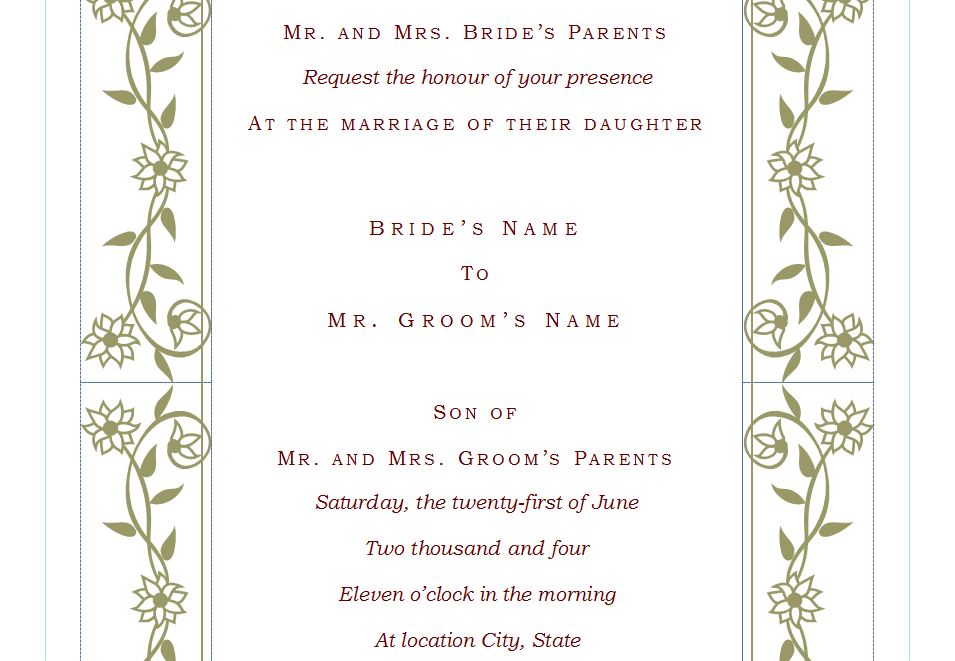 Having an excellent wedding invitation is extremely important for people that are getting married. When a couple uses the wedding invitation template, they will find that they can personalize to just what they are looking for to impress all those that they intend to invite. A wedding invitation template is very easy to use. The couple needs to enter their names and the rest is completed on the computer. They can download as many copies as they need for the guests that they want to invite.
Creating A Custom Wedding Invitation
The wedding invitation template is quick and easy. A bride and groom can add their own special features to the original template for a very unique invitation. There is a floral design to the template that is both tasteful and elegant. Since it is all done on the Internet, they will be able to download it and print out as many as they need for their guests. This will save them time and money.
Tips For Filling In The Wedding Invitation Template
Many brides and grooms desire to have something unique on their invitations. They might want to include a picture of the two of them, or they can have the date and place of the wedding included. Since it is all up to them, they can take their time and make it as special as they desire. They will want to take their time when they are filling out their template to their individual needs. When they have it completed, they will be able to see what it will look like. If they like the way it looks, they can download it very easily for printing purposes. It is a simple process that creates fantastic looking wedding invitations for couples that want to impress their guests.
Using the wedding invitation template has enabled many couples to have the amount of invitations they need when they need them. They won't have to wait to receive them because they can print more out from their computer. It is much easier than ordering them from a company because they will have complete control over when they want more.
Download: Wedding Invitation Template
Related Templates:
X
Your free template will download in
5 seconds
.
View this offer while you wait!