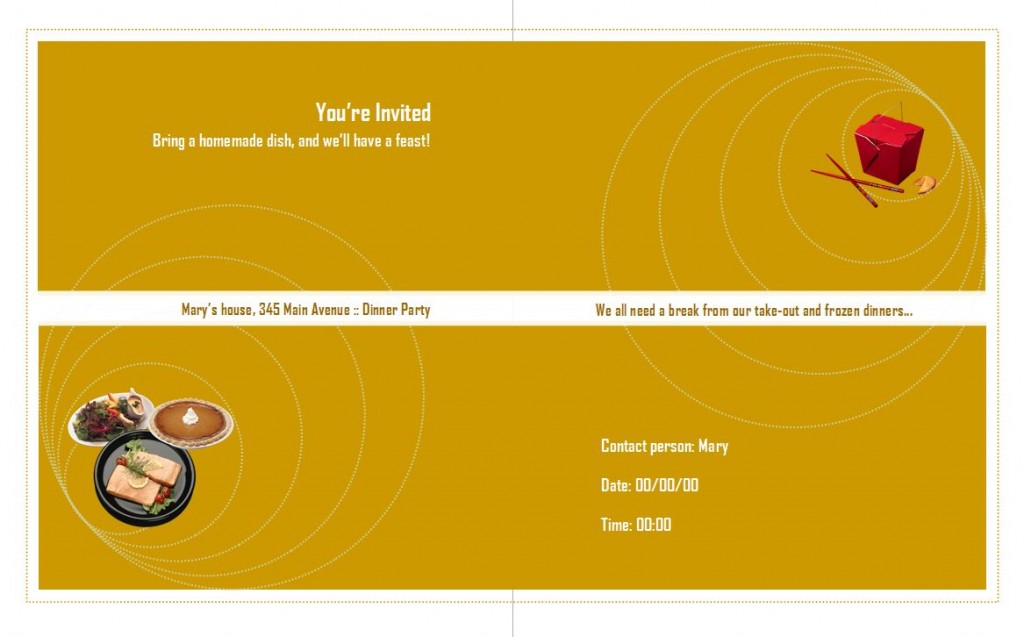 When you're holding a formal event, getting all the little details right is essential to making a great impression on your guests. One detail many people struggle with is creating the right dinner party invitations. Online dinner party invitation templates make creating elegant, appropriate invitations quick and easy.
Convenient Dinner Party Invitations From Microsoft
Using our downloadable templates for dinner party invitations is fun, easy and takes hours off an otherwise monotonous task. You can download our template right here for free, and in just a few minutes you can use it to create attractive, effective templates. Our template allows for highly customizable invitations, appropriate for just about any occasion.
To use our template, keep the following in mind:
Choose a background and other design features that are appropriate to the type of dinner party you're throwing. A business party and an engagement party have completely different atmospheres, and your dinner party invitation should reflect the tone and purpose of the event.
Our template allows you to be as brief or complete as you choose. Consider how much invitation you need to print on your invitation before filling out data fields on our template.
Be sure to place essential information such as the time and date of the event and any relevant parking or travel directions on the invitation.
Use a legible font for your dinner party invitations. Hard-to-read fonts will make a poor impression and may even cause your guests to misread the invitation.
Double-check names and addresses and also proofread your invitations to avoid any embarrassing misspellings.
Creating beautiful dinner party invitations doesn't have to take hours and you don't have to write out dozens of invitations by hand. Using our free dinner party invitation templates will make one of the many details you must attend to in order to throw the perfect dinner party quick and easy. It also helps ensure your invitations cover all the bases your guests will expect. This will allow you to focus more time and effort on larger issues such as finding a venue, catering, entertainment and more, letting you throw a more impressive and pitch perfect event.
Download: Dinner Party Invitations
Related Templates:
X
Your free template will download in
5 seconds
.
View this offer while you wait!