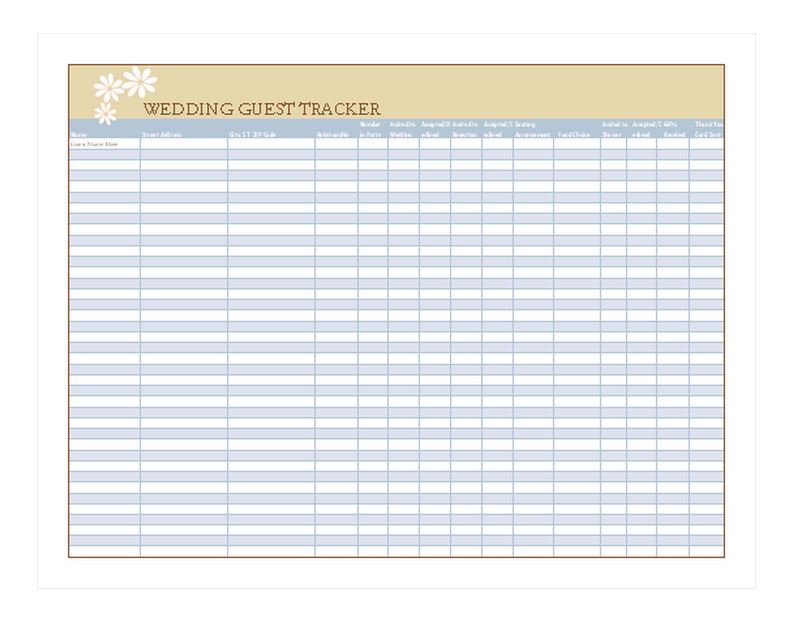 Here ExcelTemplates.net, we do our best to make all of our templates not only easy to access and use but we also customize them to represent you as an individual. We know that this makes it much easier for the client and/or company to understand and work with our templates. Our wedding guest list template is no exception. One of the main goals of creating the wedding of your dreams is to ensure that all of your family and friends whom you want to invite receive invitations.
Our templates are customized in combination with Excel in order to make them easy to use and to download free of charge.
How to Use the Wedding Guest List Template
Our wedding guest list template is perhaps one of easiest to use, all this involves is entering the following data:
The name(s) of the guest(s)
The relationship of the guest(s) to the bride or the groom
The guests' address and other contact information
The number of guests per each party who are planning to attend
Information about the bridal shower and/or bachelor party if you have had either
the number of RSVPS for both the ceremony and the reception
Food items
The number of and the names of gifts received
The number of thank-you notes sent
All traditional weddings need a solid plan and need to be worked out according to your budget. You can take advantage of our wedding guest list template as described above in order to make the process less stressful, less painful to your budget and to make the process of your overall plans much easier to monitor as well.
The Overall Purpose of our Wedding Guest List Template
We know that planning a wedding can be very stressful and that it is very difficult to keep track of everything on your own. If you don't, you could easily go over your budget and go into debt as a result. This is why our wedding guest list template isn't designed exclusively for keeping track of the number of guests and gifts received. It is designed to assist you in making the planning much simpler to budget and to make other categories that would otherwise trigger high amounts of stress much easier.
Download: Wedding Guest List Template
Related Templates:
X
Your free template will download in
5 seconds
.
View this offer while you wait!