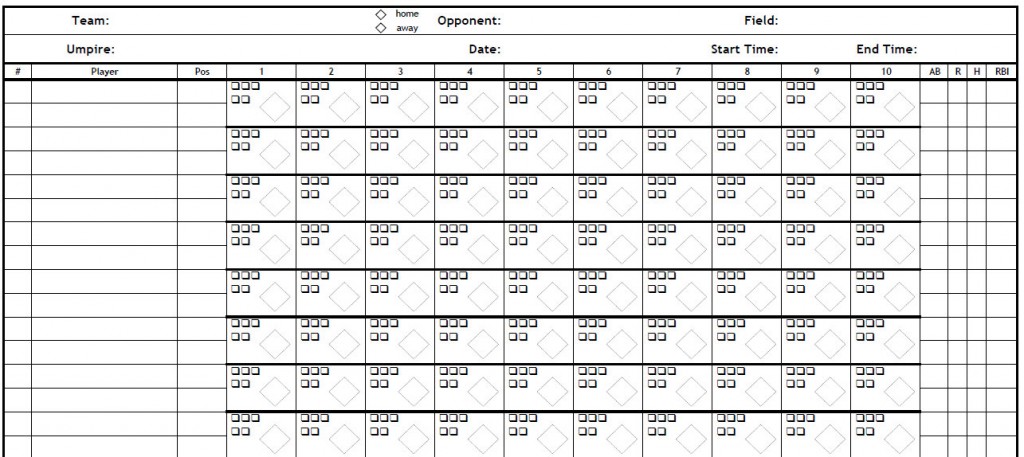 A baseball score sheets template can not only help you track all the action in front of you, but can also give you a great reference guide for how a player or team fared against an opponent in the past. Our baseball score sheets template is designed for players of any age and skill level, and they are completely complimentary.
Baseball Score Sheets Template: Using the Score Sheets
Aesthetically baseball score sheets may be different, but they are all similar in the way they are designed. Basic game information will be written at the top of our score sheet. Some of the things you will want to mark down include:
Team Name
Opponent's Team Name
Field/Stadium/Ballpark
Home Plate Umpire/Umpiring Crew
Date of Game
First-Pitch/Start Time
End Time
After all the basic game information has been placed in the appropriate areas, you can move on to filling out the lineup card. The lineup card includes spots for a player's name, number and the position they will take in the field. There are more than the nine traditional spots available in case there are substitutions made or pinch-hitters are used later in the game.
The boxes next to the batter's name are reserved for tracking offensive statistics throughout the course of a single game. There are checkboxes to follow balls and strikes, and a diamond to indicate if a player had a single, double, triple, home run or later scored.
There are 10 innings worth of boxes allotted for each player. Next to the last box is a spot to keep track of at-bats, runs scored, hits accumulated and runs batted in for each player. There are also designated areas to keep track of the total number of runs, hits, errors and runners left on base under each individual inning column.
Below the offensive portion of the baseball score sheets template is an area to keep track of pitching statistics. The pitching stats you can follow include:
Win/Loss
Save
Hits
Runs
Earned Runs
Walks
Strikeouts
Hit Batsman
Balks
Wild Pitches
Near the bottom of the baseball score sheets template is an area to keep track of how many runs were scored by each team in each inning. Finally, there is a space for the official scorer to autograph the sheet.
Download: Baseball Score Sheets Template
Related Templates:
X
Your free template will download in
5 seconds
.
View this offer while you wait!