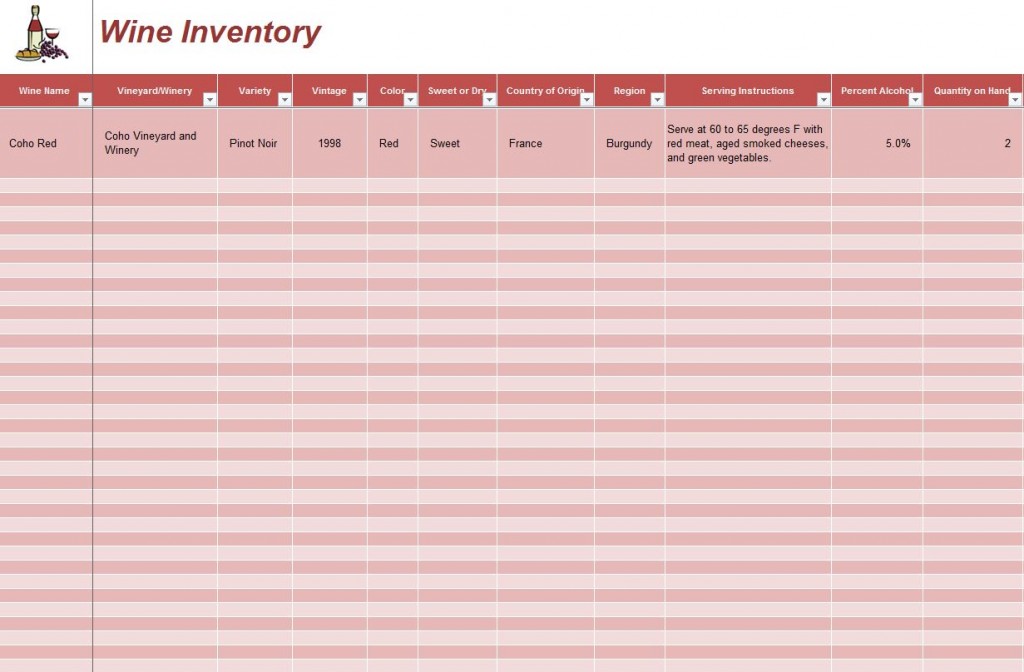 Wine, whether it's being collected or sold, can be hard to keep track of. With brands and years, vintages and variations, a dozen bottles could easily slip through the cracks. That's why it's important to keep a wine inventory, and to do so with a simple, free spreadsheet that ensures nothing ever gets misplaced.
How the Free Wine Inventory Spreadsheet Works
In order to keep an accurate gauge of a wine inventory all one has to do is download this spreadsheet by clicking the link. Once the sheet has been downloaded all that's left to do is click "Save As", name the sheet, and then fill it out. Once the sheet has been filled out, all of the wine should be accounted for. From that point onward all that's left to do is to take inventory at regular times to make sure the sheet stays up to date.
For a business this means adding in all sales and accidents, as well as all deliveries that were received that day. For a private collector it means that any bottles which were opened and drank need to be taken off the list, and any new acquisitions need to be added. It really is just that simple.
Why Use this Wine Inventory Spreadsheet?
This particular wine inventory spreadsheet has a lot of benefits associated with it. On the one hand it's simple and straightforward, which makes it great for any business or individual. It also uses Microsoft Excel, which is the most commonly supported spreadsheet program on the market today. If someone has a computer capable of supporting Excel, then that person can use this sheet to keep an accurate count of his or her wine. Also, this spreadsheet is already designed so that the minimum amount of work needs to be done on the part of the user to fill it out.
Lastly though, this spreadsheet is completely free. All someone has to do is download a copy, and fill it out. If that copy goes missing, gets overwritten, develops an error, or becomes unusable, then just download a replacement for free!
Download: Wine Inventory Template
Related Templates:
X
Your free template will download in
5 seconds
.
View this offer while you wait!