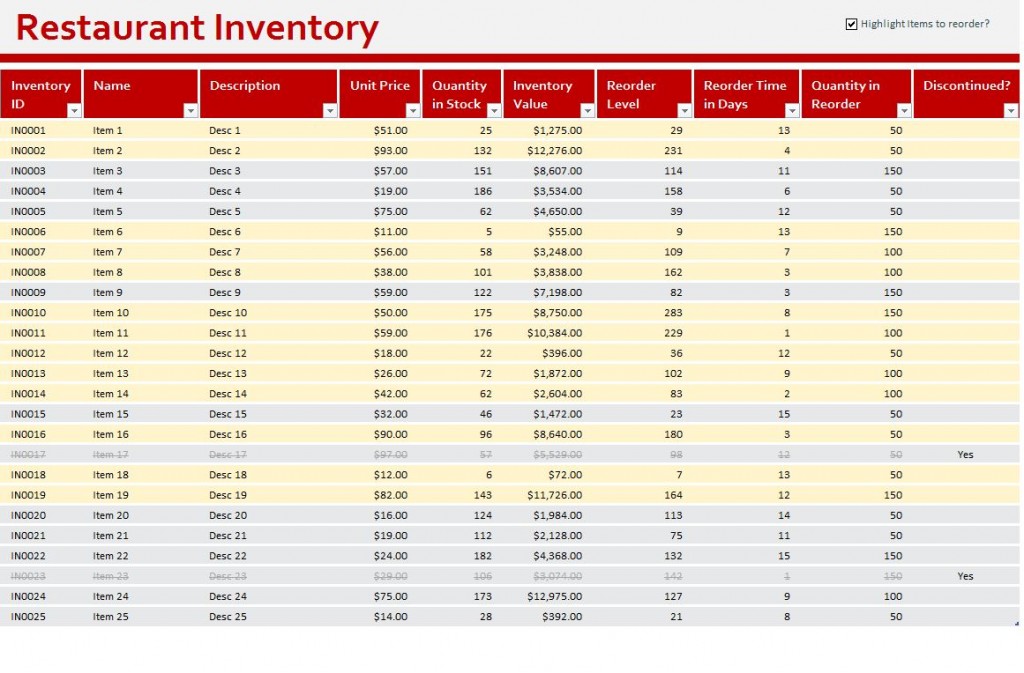 A Restaurant Inventory Sheet is important in determining the value of your business assets. By simply maintaining a Restaurant Inventory Sheet of your assets, you are insuring that your business is fully covered in the event of theft or damage. This document is also a useful tool in accounting and year-end tax reporting. The Restaurant Inventory Sheet template can also be customized for all consumable inventories to help simplify the ordering process.
The Restaurant Inventory Sheet template is an essential tool in the food industry. This professional, easy-to-use tool is free to download. Anytime you need to make changes or updates to meet your business needs, your document is always at your finger-tips.
How to Use the Restaurant Inventory Sheet Template
Step One: Create an inventory list for each area of your establishment. Using a legal pad or notebook, record all assets in the restaurant. Appliances, table/chairs, window coverings, office furniture, registers, shelving, cookware and décor are the types of assets to be included in this schedule.
Step Two: Using a separate legal pad or notebook, create a categorized list of your high value assets such as electronics, POS systems and other equipment. Make sure to record detailed descriptions and serial numbers for assets in this schedule. Example: 22" Black HP, Touch-Screen, Flat Panel, LCD Monitor, serial number 678910, Model number-ABC987
Step Three: Create separate inventory records for the dry storage and cold storage consumables. Include distributor, quantity, order and delivery dates.
Step Four: When formatting your template header(s) you may include your business logo in place of the default company information provided.
Step Five: Format the asset section(s) of the template. The information you hand-recorded during your inventory scan will simplify this process. You can modify the numerical values in this section to provide accurate reporting figures.
Step Six: Save a copy of your Restaurant Inventory Sheet.
Restaurant Inventory Sheet Helpful Tips
Use video or photos to create visual documentation of your assets.
Organize and file all receipts and warranties in a secure location.
Use the 'Save As' function to maintain accurate records of changes throughout the year.
Download: Restaurant Inventory Sheet
Related Templates:
X
Your free template will download in
5 seconds
.
View this offer while you wait!