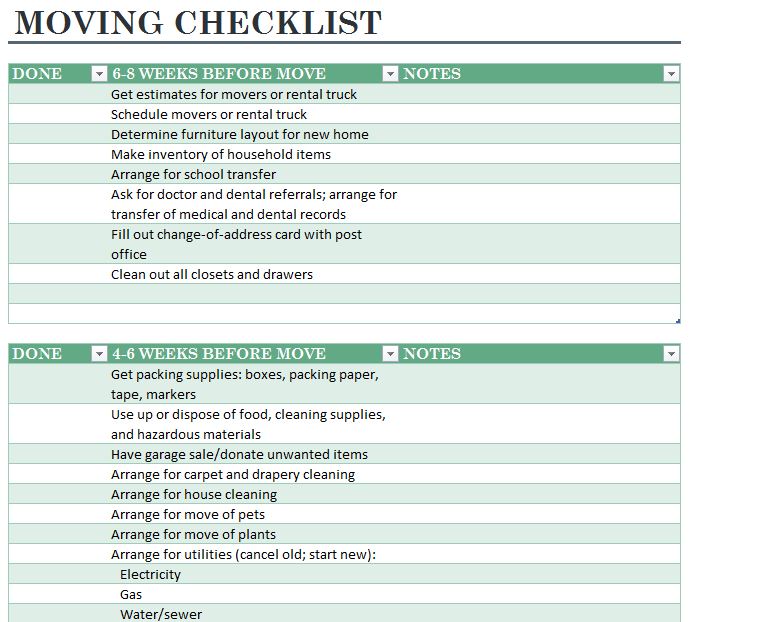 Moving from one home to another is not easy as there is so much that has to get done. Time is limited, and there is often a huge checklist of items that must be completed. Movers must be called, items must be packed, furniture needs to be loaded, and both homes have to be cleaned. All of this takes time and energy, which is why the home moving checklist should be utilized to make the process more efficient.
The home moving checklist is a Microsoft Excel template that contains a pre-arranged list of items that must be completed during a home move. The list allows you to focus on getting things done, instead of making lists all the time.
This home moving checklist is available as a free download. The spreadsheet may be loaded into any computer that has Microsoft Excel, and it can be transferred to someone else through email. Open the spreadsheet and you will notice the checklist is already in place. It is divided chronologically, with separate lists for 6-8 weeks before a move, 4-6 weeks before a move, and 2-3 weeks before a move. Not only does this list provide information on everything that needs to be done, but it also allows you to understand when to begin on certain processes.
Using the Home Moving Checklist
In order to make the best use of this home moving checklist, take some time and go through every item on it. If there are any items that do not apply to your move, eliminate them from the spreadsheet. If there are items on the 4-6 weeks list that you think belong in the 6-8 weeks list, move them accordingly. Add anything that the list may have missed. For example, moving from the city to the suburbs may involve steps that are not highlighted in this list. Add those steps to one of the three lists so you will know when to get started on those jobs.
This home moving checklist is incredibly straightforward and easy to use, even for those who are not computer savvy. Once the list is edited to your liking, save a copy on your computer. You can print out as many copies as you need, or email them to your family members and/or the movers. This home movers checklist will make your life a lot easier. All the information you need about your move is available in one or two pages.
Download: Home Moving Checklist
Related Templates:
X
Your free template will download in
5 seconds
.
View this offer while you wait!