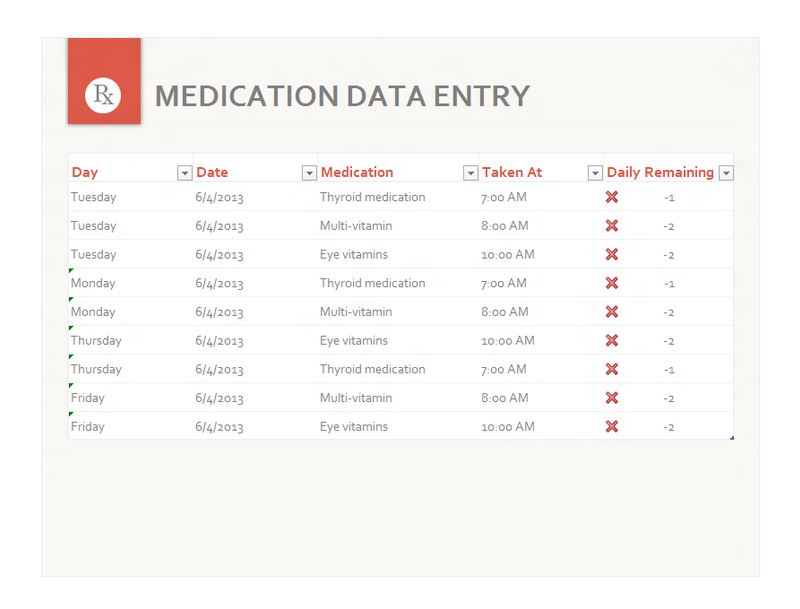 For millions of Americans, after the age of 35 years, it becomes important to take dietary and health supplements. Among these millions, medications have become essential for good daily functioning. With the daily demands that may occur with family, work or personal stress, the likelihood of forgetting to take certain medications at the right times can be a problem. Using the Medication Schedule Template, fears of forgetfulness can be put at ease.
The Medication Schedule Template works to accommodate the daily demanding routine, because it can easily be printed and placed in the bedroom, bathroom or kitchen for easy memory. Another great way to use the template is to keep it updated on the computer. For regular computer users, they can be reminded of their medication times and continue to check in to see when to take their next batch with a smooth process only a click away.
Using the Medication Schedule Template
The Medication Schedule Template is free to download from this site, easy to customize and simple to use. To get started, follow the sequences listed below:
Download the Medication Schedule Template, which takes just seconds on most PC's.
Click the template icon and open it using Microsoft Excel.
The medical headings are already neatly aligned within the template, so simply plug in your data.
Under the column titled 'Medications', you can list each medication specifically, or, you can group them together like the example: Eye vitamins, Skin vitamins', etc.
Be sure to fill in the necessary frequency for each medication under the column, 'Every'.
Under 'Frequency', you can set this for each medication; whether you should take them on an hourly, daily, or 'as needed' basis.
'Active' is to make sure that you're currently taking these medications now, or if you're setting it for a future date.
'Per Day' is to keep track of how many doses of the given medication is needed or recommended by the doctor.
If you or your loved one is taking up to ten different medications, simply add a new column by dragging the prior column down, and adjusting the size with left numbers.
Title your Medication Schedule Template so that it is easy to find on the computer.
To print, first save the document. Follow this by clicking on 'Print' in the top menu toolbar, and print as many copies as needed.
Download: Medication Schedule Template
Related Templates:
X
Your free template will download in
5 seconds
.
View this offer while you wait!