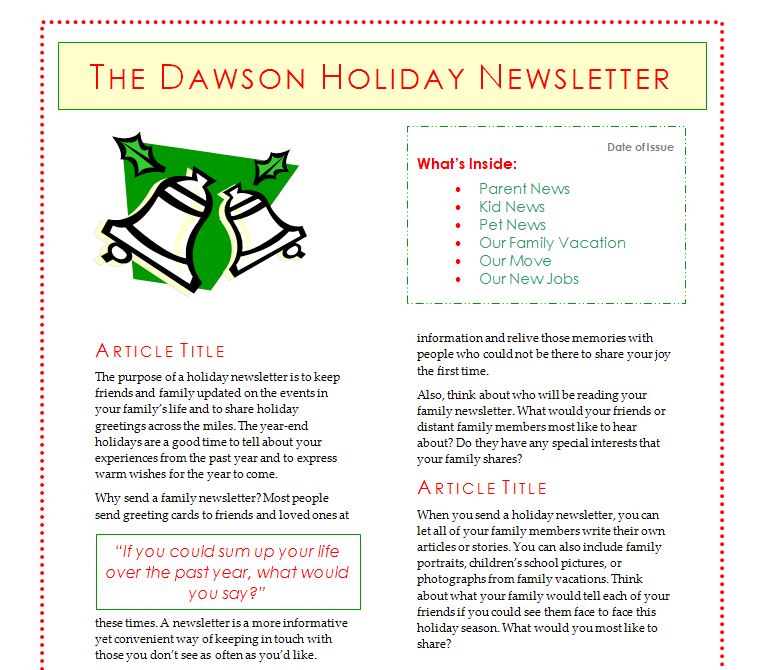 A holiday newsletter template is the perfect way to generate the news of the past year, as well as update family and friends of what is going on in your life. This item offers a more personal touch than a generic Christmas card, and allows the individual to develop their own design and news that they feel is important for the recipients to know.
How To Use a Holiday Newsletter Template
Using the template is rather simple and straightforward. The individual logs into the site and then has the ability to peruse a number of different styles that they may use. These templates are free for anyone who chooses them.
After a specific holiday newsletter template has been chosen, the individual then generates their own 'news stories', personal updates, and even can add pictures. These are touches that allow for a more personal feel to the newsletter, and will be the joy of family and friends.
Benefits of Using the Holiday Newsletter Template
The benefit of using the template over a card is that so much more information can be contained in it. Updates on family events and vacations, as well as special events that have happened throughout the year can be included in this format. Many of these templates also allow for the insertion of funny sayings, cartoons, as well as personal pictures. Depending on the holiday newsletter template the individual is using, multiple media insertions can be interjected into the letter.
Another benefit of the template over cards is that cards can be quite pricey, and the use and printing of the template newsletter is free. How many cards do not charge an arm and a leg for personalizing the format as well? These templates are easy to use, can be printed out immediately without a charge, and lets a personal touch be added to each item. So much better than a card and lets everyone know how you and your family are doing this holiday season.
A newsletter brings family and friends up to date on what is happening in your world. Being able to include pictures, dates, and even an overview of what is to come in the following year is a priceless way to keep everyone you love informed. Being able to do this for free and print it out immediately, when you want it makes it easy, affordable, and time saving.
Download: Holiday Newsletter Template
Related Templates:
X
Your free template will download in
5 seconds
.
View this offer while you wait!