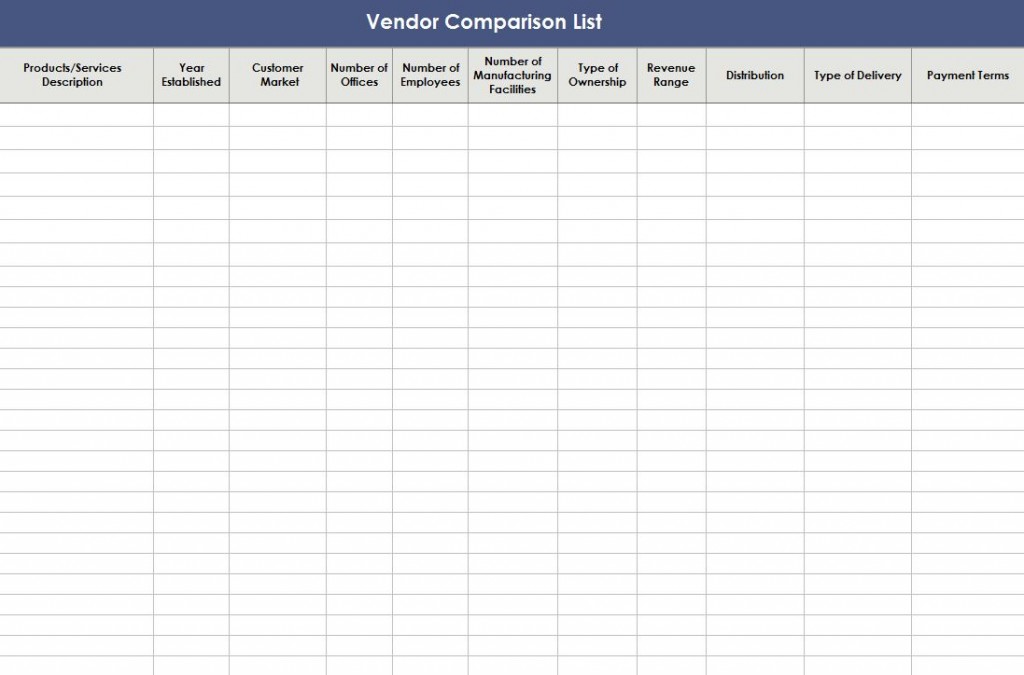 Are you in the business of trade or resale? The Vendor Comparison Template is a great help you track your vendors, how to contact them and their prices and much more. To download the free template all you have to do is click on the download button right here on this page and open the file in Microsoft Excel. Get the vendor comparison template today!
Using the Vendor Comparison Template
One you open the Vendor Comparison Template you will see the following options that are preset in this template:
Company Name
Products / Services Description
Year Established
Customer Market
Number of Offices
Number of Employees
Number of Manufacturing Facilities
Type of Ownership
Revenue Range
Distribution
Type of Delivery
Payment Terms
Freight Terms
Web Sit Address
Contact Name
Address
Phone Number
Fax Number
E-mail Address
Notes
The list is quite complete and may contain even more information that you need. The great thing about this template is that it is adjustable and you can easily sort through items that are most relevant for you search. So rather than sorting through your contacts which sorts them by name or business now you have a list setup to give you the information on the vendors that you deal with and find the vendor most useful to you.
You can click on the individual categories on your Vendor Comparison Template and have your vendors listed by products. This is a great way to review each of the vendors and compare their selling price and help use that in determining what helps to make your business the best profits. You can also adjust the Vendor Comparison Template to the type of delivery or payment terms. Who can get the product there the quickest or who has the easiest ordering options for example. Once you decide however you want to use the Vendor Comparison Template all your vendors contact information is easily laid out for you as well.
Again, the Vendor Comparison Template is very easy to use and can be customized to help best serve the needs of you and your employees. If you have multiple people ordering the form can also be placed online so that all your sales team have easy access to this information.
Download: Vendor Comparison Template
Related Templates:
X
Your free template will download in
5 seconds
.
View this offer while you wait!