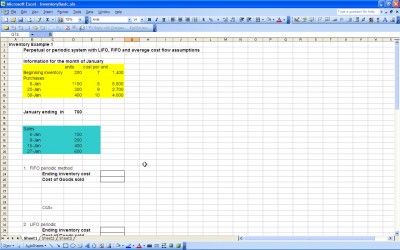 In business it really is true that you need to keep track of just about everything that you do in order to run effectively. Thus, it is necessary that you use the Excel cost of goods sold program to help figure out how much profit you are really making on certain things that you have sold to your customers. With the Excel cost of goods sold template, there won't be anything that slips through the cracks. The fully-functional template also serves as a calculator, which saves the user an incredible amount of time.
The cost of goods template can be yours in a matter of seconds. To begin using it, simply click on the download link located on this page. There's no charge associated with the template and no restrictions on the amount of times it can be downloaded or used. Get started today!
About the Excel Cost of Goods Sold Template
You always want to keep tabs on how much you are making, but this program can really get you the facts and figures that you truly need. With that type of information in hand, you are going to be in much better shape going forward. The Excel cost of goods sold template is a perfect, helpful tool for businesses of all sizes.
The cost of goods sold template is just one of the hundreds of free and easy-to-use templates available here at ExcelTemplates.net. Feel free to take a look around the site to see what other tools, templates and spreadsheets can help make your life at home and the office just a little bit easier! Feel free to share the templates with your friends and family and tell them you found them right here at ExcelTemplates.net!
Download: Excel Cost of Goods Sold Template

Related Templates: