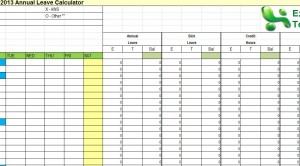 No matter what type of job you have, keeping track of your vacation time is critically important. Tracking your used and unused vacation and leave time can better help you schedule when you need time off. A 2013 annual leave calculator can eliminate the guesswork for you. This simple and easy-to-use template is instantly downloadable and completely complimentary on this site.
Using the 2013 Annual Leave Calculator
The annual leave calculator template is broken down into 26 two-week pay periods. These pay periods being January 13th and run all the way to January 11th, 2014. The days of the week are then separated into 14 different columns. National or "Observed" holidays are marked in blue boxes. Some of these holidays include Christmas, Thanksgiving and Independence Day.
There are several different letters that you will use to denote the reason for your absence:
A – Annual Leave
S – Sick Leave
H – Holiday
CRW – Credit Hours Worked
CRT – Credit Hours Taken
L – Leave Without Pay
CE – Comp Time Earned
CA – Comp Time Absent
CL – Court
X – AWS
O- Other
In addition to placing the denotation letter in the corresponding box, you will also place the number of hours you are on leave. For example, if you are ill and take four hours of sick time, you would mark S-4 on the corresponding day. If you were to take an annual leave day, you would mark A-8.
Next to the schedule grid are four columns: Annual Leave, Sick Leave, Credit Hours and Comp Hours. Within each category is three subcategories: Estimated Time Off (E), Actual Time Off (T) and Balance (Bal). Here is where you will calculate all the leave time you have taken and still have available.
The template is completely customizable, so you can add or remove information as necessary. It can be specially altered to meet the needs of your business or company. This annual leave calculator is just one of hundreds of complimentary templates, calculators and spreadsheets available on this site that are designed to make your life just a little bit easier.
Download: 2013 Annual Leave Calculator
Related Templates:
X
Your free template will download in
5 seconds
.
View this offer while you wait!