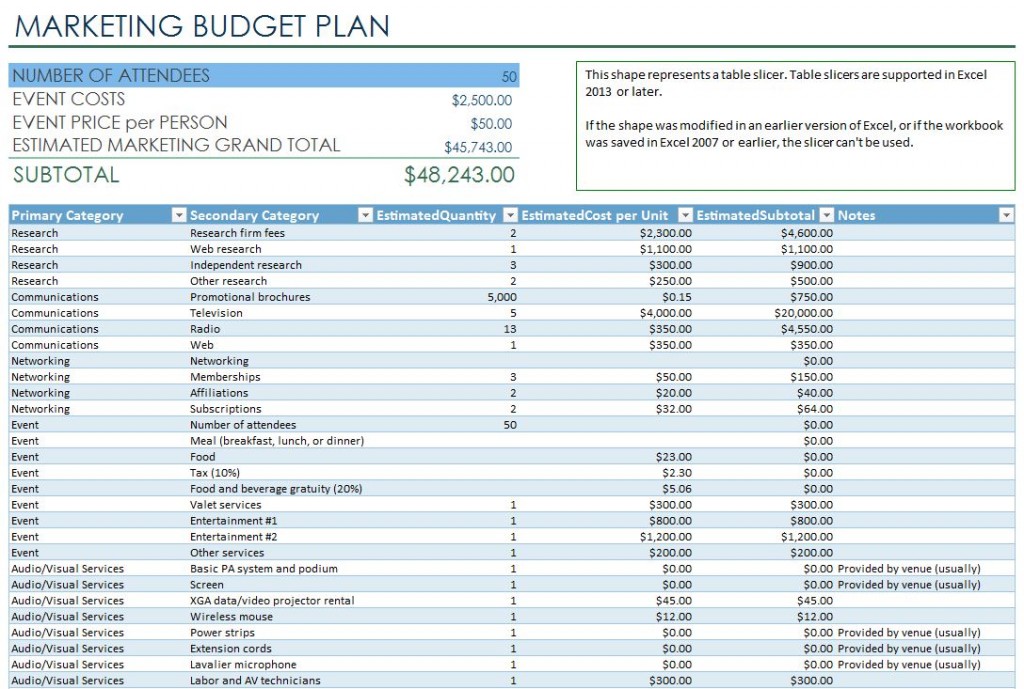 Small business owners and large corporate executives are both keenly aware of the importance of an effective advertising plan. Online and personal marketing campaigns are arguably the most efficient way to reach the target audience, but can be somewhat costly. In order to make the reward greater than the potential risks experts in the field typically use a marketing event budget template. You can download the marketing event budget template for free right here on this page. Simply click on the link available on this page to get started.
Developing a Marketing Event Budget Template
As an organizational tool, the marketing event budget template ensures that special event coordinators have a solid understanding of the total costs related to a specific symposium, concert, lecture, or other special event. The templates are easy to use and can include as much detail as the administrative or marketing team deems necessary. Each column is formatted by specific relevant headings but can be reformatted or otherwise customized to meet the needs of a specific event. The convenient headings are automatically updated as totals within the marketing event budget template are updated. The fully functional template can be quickly downloaded on this page and is completely free for all users. Even first time event planners will find the template to be easy to use and very reliable for the task at hand.
Completing the Marketing Event Budget Template
Any financial spreadsheet is basically only as useful as the information it contains. Marketers and event planners must work together to determine what predictable items should be included in the template, and should also allow for additional line items to plug in any unexpected expenses that may arise. Some of the standard items that may appear in a marketing event budget template include:
Communication Expenses
Printing Expenses
Equipment and Supply Rental Expenses
Catering Expenses
A comprehensive breakdown of specific line items protects a company from overspending and is helpful in case a future audit arises. The information from previous events can be saved and used to help marketing experts plan upcoming events using the same vendors or locations. This free, downloadable tool is a great way to successfully kickoff any company grand opening or other celebratory event.
Download: Marketing Event Budget Template
Related Templates:
X
Your free template will download in
5 seconds
.
View this offer while you wait!