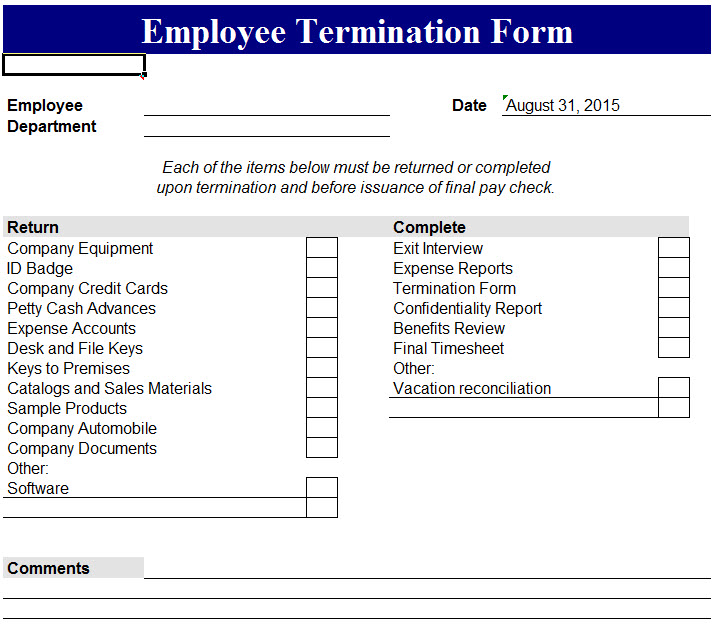 Employee termination is a sad event indeed, but something that must be done from time to time. The Employee Termination Template is designed to make the paperwork for that event quick and simple. Nothing is more difficult than having to tell an employee they have been terminated, so why make the occasion worse with a frustrating amount of paperwork? This document is structured in a checklist format. All you need to do is check off a few bits of information and you'll be on your way to your next task!
Employee Termination Template User Manual
The first thing you need to do is download the template by clicking the link below. Now you're done with the hardest part of this document!
You can enter any information you need for an employee termination by clicking on the cell and typing it into your computer. You can also print off as many blank copies as you need to just fill them out by hand. Click the "File" tab above and press the "Print" option.
Start by entering the employee's name and the department they worked for at the top of the page. The Termination Template already comes with most reasons for termination and the steps that follow. However, you can also add new ones if the template is missing anything.
When you're ready simply go through the list and mark every task your company requires for a termination with a check. Once the boxes are filled you'll know the task has been completed.
There is a convenient space to leave any notes for yourself or another staff member at the bottom. All that's left to do is sign the document and you'll be ready to carry on with your important work!
Why Use the Employee Termination Template?
Terminations are never easy, regardless of the cause. There's no reason to dwell on the unfortunate event thinking you may have forgotten an important step that your organization requires. Use the Employee Termination sheet to neatly organize the process. Simply check off all the tasks associated with a termination in the provided boxes. You can rest easy knowing that you completed all the regulated steps efficiently.
Download: Employee Termination Template
Related Templates:
X
Your free template will download in
5 seconds
.
View this offer while you wait!