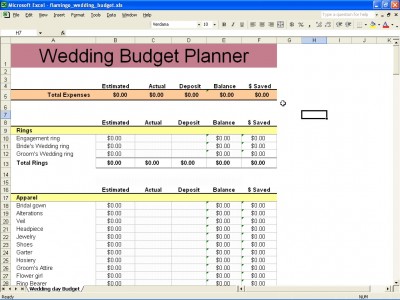 Planning a wedding is no small feat. Whether the wedding guests number 10 or 300, a wedding budget is tough to stick to and there are several things to consider during all stages of planning. An excellent method to stay on target can be found by utilizing a wedding budget Excel template to outline every expense and the time frame needed to organize and budget for each purchase.
Using the Wedding Budget Template
The initial purchase should always begin with the venue or location of the wedding ceremony and then the reception. After that has been determined, a timeline feature can easily be inputted in Excel to remind the bride or groom when the rest of the details should be reserved and paid for.
Another key feature is subtracting purchases along the way to make sure that the wedding budget is being adhered to and this also allows for other purchases to be tracked making sure that they stay within the budget as well.
After the venues have been secured, the catering and linens need to be chosen. This, by far, can be the most budget breaking area of any wedding. There are so many options to choose from and when considering all the different foods, drinks, colors, styles and tastes.
Most important is to remember that this event is for the bride and groom and they need to choose what makes them happy, not what everyone else wants.
Hopefully by this time, the wedding money is still available and the cake, party favors and photographer can now fit in nicely within the Excel worksheet. Giving a daily accounting with a timeline is the best way to stay on track regarding a wedding budget.
If the budget is over-extended, it can easily be addressed by adjusting other areas and hopefully the bride and groom can have enough left over for their honeymoon.
Download: Wedding Budget Worksheet
Related Templates:
X
Your free template will download in
5 seconds
.
View this offer while you wait!