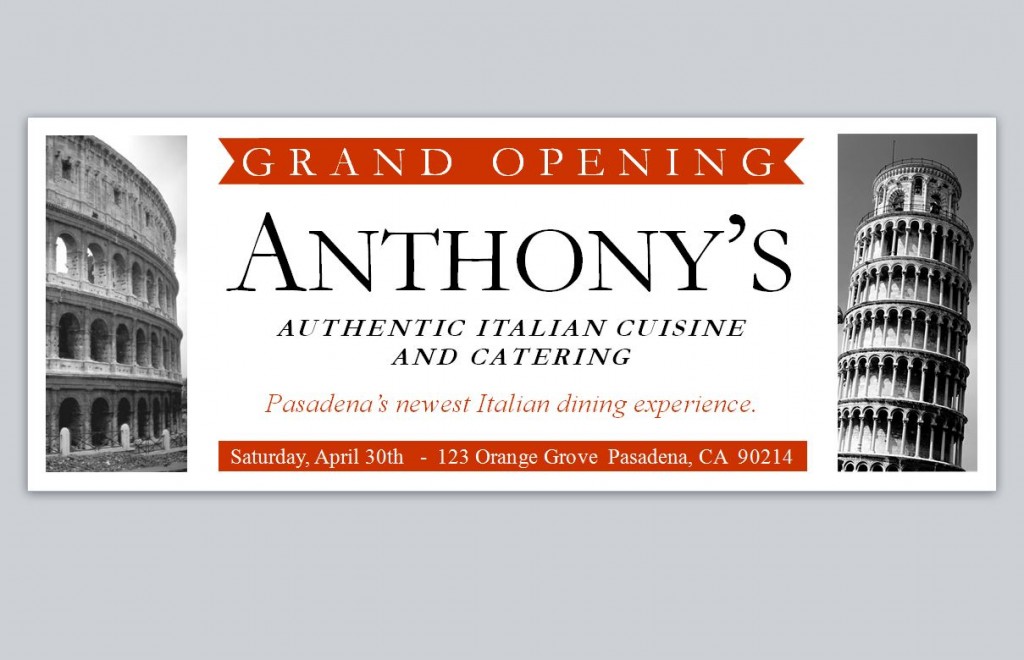 If you own an Italian style restaurant and are planning a grand opening soon, here is a grand opening banner template that you can use to get your advertising started. It is really easy to use and can quickly be completed. Here is a run down on how to use it and also some information on making it work for other styles of restaurants as well.
How to Use the Grand Opening Banner Template
This grand opening banner template will run in software compatible with Microsoft Publisher 2003. It will show you the basic outline for what you sign will look like. Change the name of the restaurant to your own, change Pasadena to the town where your business is, change the date of your grand opening, and change the address to that of yours. Once you have done all of that, the banner is ready to go. You can print it out and hang it all over town. On the other hand, if your restaurant is not Italian, read on to find out how to adjust this template to your own business.
Tips on Using the Grand Opening Banner Template
It is a very simple task to change the pictures on the banner to ones that fit the kind of restaurant you have. You should also add your logo to it to make your name more recognizable. You will need to find pictures that are close to the general size and shape of the pictures on the document so they do not distort too much. You could add pictures of your own establishment right on the grand opening banner so that anyone who sees it will know your place when they go by. It would be a good idea to add your phone number to the text of the document so that customers will have a way to get a hold of you as well. In this day in age, an e-mail address will help you get in contact with your customers as well.
The grand opening banner template you can download on this page is so easy to use and can be adjusted to work with the opening of any business. The total size of your finished banner will be about 40″ x 15″ and will use 8 pieces of paper. Buy some glossy photo paper to make the banner look that much better.
Download: Grand Opening Banner
Related Templates:
X
Your free template will download in
5 seconds
.
View this offer while you wait!