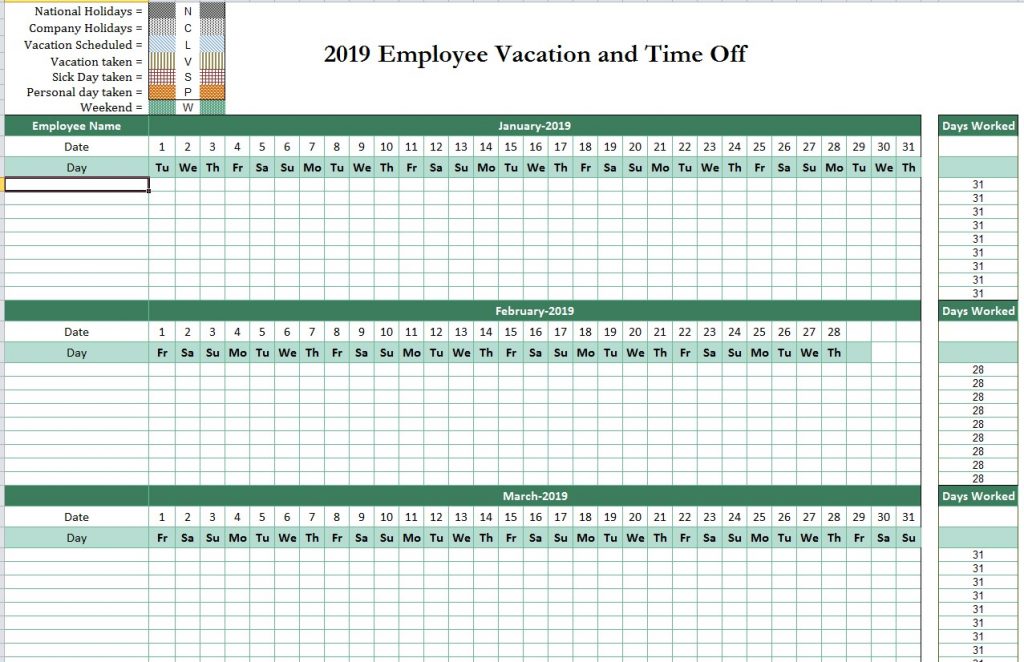 Even healthy people get sick from time to time. The 2019 flu season has proven to make even healthy people come down with the illness. When a person is sick they may need to take some time off of work to recover. There is big difference between getting sick once in a while and frequently taking days off of work.
With all that an employer has to do during the day tracking attendance should not have to be a difficult task. There is a tool to make things easier on the employer. The 2019 employee attendance tracking calendar will help an employer keep track of when their employee take off while still attending to other matters of business.
Why Use a 2019 Employee Attendance Tracking Calendar
While it is expected that an employee may need a day off work every once in a while it is important to track how frequently an employee does not come to work. If an employee is taking off work often it is not fair to their coworkers. An employer should track the time so that the rest of the team does not have to take on extra work for an irresponsible employee.
Using tracking tool in Excel will allow the employee to graph a pattern in attendance if needed. If an employee has sick time with a company the tracker makes it easy to see how much time they have available and to make sure to apply the time if the employee is absent.
How to Use the Attendance Tracker
The tracker is easy to find and to use. The program is licensed to be available for use free of charge. The tracker can be organized and can be sorted by weeks, months, and year. Large companies and small business alike can benefit from this tracker. They can make sure the employees are doing their part in making the business successful and get paid for the benefits they have earned.
Related Templates:
X
Your free template will download in
5 seconds
.
View this offer while you wait!