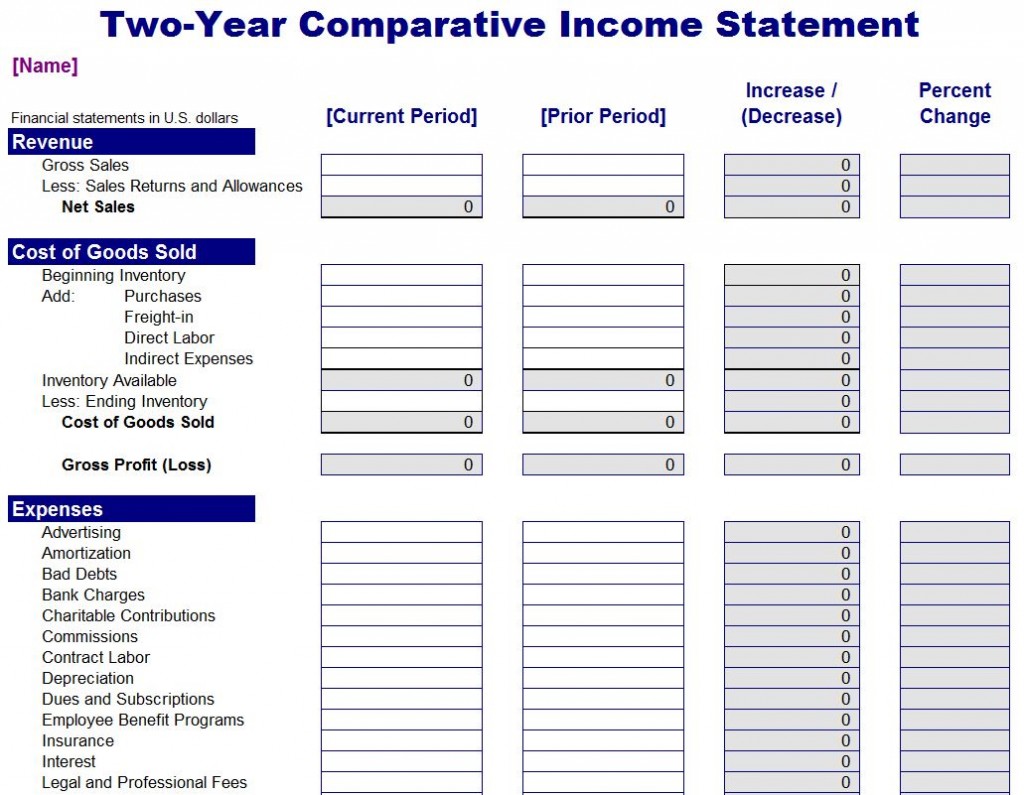 Knowing where you stand with your business is crucial for making decisions regarding the future of your business. Having a comparative income statement is an invaluable tool to see where you have been and where you are going. You can judge what is working for you and what needs to eliminated or tweaked. A comparative income sheet will let you see what expenses have gone up or down and whether or not your income has increased or decreased. You can then use this information to see how your expenses have affected your income.
Using a Comparative Income Statement Template
If you would like to use the free and easy-to-use 2-year comparative income statement template, you can start by downloading it right from this page.
Once you have the template you can start by entering your yearly expenses from the first year you would like to use.
The next step is to enter all applicable revenues from that year in the income field.
The template will automatically calculate your net income from the first year by deducting all of your income and other income from the expenses. This number will show your profits for the year.
Follow the steps for the first year to enter the information for the second year.
When the second year is entered the comparative income statement template will calculate the difference and percent difference between the two years.
Helpful Tips for Using the Comparative Income Statement Template
Just filling your information into the template won't help you, unless you understand how to use this valuable information. Here are a few tips on how to use the information derived from the comparative income sheet:
When initially looking at the statement you should look for any drastic changes between the two years. If there are any changes that seem a little out of the ordinary you should check to make sure that you entered your numbers correctly.
If your numbers are correct you should consider and major changes that your business has made throughout the past two years. For instance if your advertising costs have increased by 50%, but you know that you implemented a pretty aggressive marketing campaign that year it would explain the jump.
With regards to increase in expenses it is important to make sure that you also have an increase in income that correlates with it. This way you know that the expenses are reasonable and are useful to your profits.
The comparative income statement is also helpful to see how effective you are at cutting costs and where you need to cut costs. You will be able to see how your expenses have changed over the years so you can see where you may need to trim some fat or where you have been saving money.
Download: Comparative Income Statement
Related Templates:
X
Your free template will download in
5 seconds
.
View this offer while you wait!