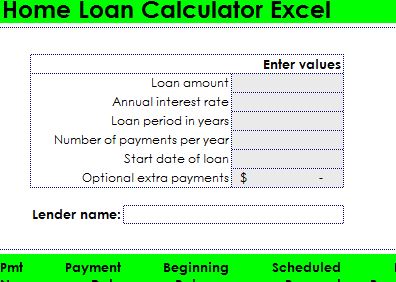 Millions of Americans are faced with the same dilemma on a daily basis: "Should I keep renting or is now the time to buy a home?" Purchasing a home is one of the most important decisions a person will ever make, that's why it's imperative to have as many helpful tools at your disposal as possible. With a home loan calculator Excel template, you can determine all the financial pros and cons that will come along with buying a home. This trustworthy template is completely complimentary and can help you decide if the time to purchase your first or next home is now.
Home Loan Calculator Excel: Using the Calculator
The home loan calculator Excel template is fast and easy to use. There are six initial steps to using the calculator: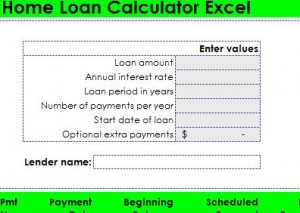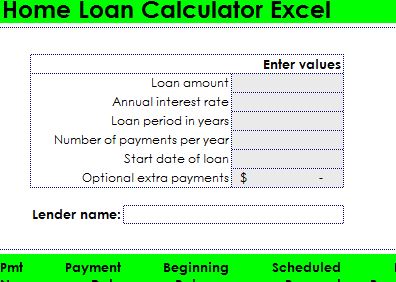 Step #1 – Enter the amount of the loan you plan to get.
Step #2 – Enter the annual interest rate.
Step #3 – Enter the number of payments you will make per year.
Step #4 – Enter the date the loan will begin.
Step #5 – Enter the amount of any optional extra payments you will make.
Step #6 – Enter the name of the lender.
Once the initial fields have been filled out, the calculator will automatically do the rest of the work for you. The field to the right will reveal your scheduled payments, the number of scheduled payments and actual number of payments, the total amount of early payments, and the total amount of money that will solely go to interest.
Below, all of your payment information will be clearly listed. Included in the spreadsheet below the two main fields will be the payment number, payment date, the beginning balance, scheduled payment, extra payment, total payment, the amount that goes to principal, the amount that goes to interest, the ending balance after payment and the total cumulative interest amount.
This home loan calculator template from Excel lays out every cent you can expect to spend while paying off your new home loan. Using this calculator is the easiest way to see how much you can plan on spending and if you can afford it.
Download: Home Loan Calculator
Related Templates:
X
Your free template will download in
5 seconds
.
View this offer while you wait!