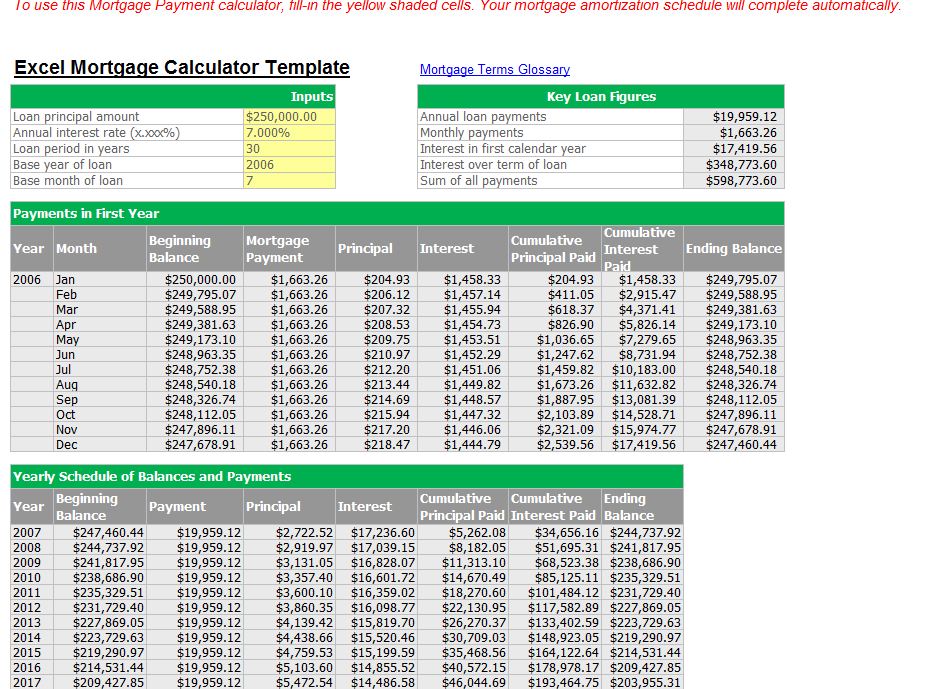 This simple to use loan payment calculator Excel template is great for individuals who are shopping around for the right home or real estate loan, people that are refinancing their mortgage, and people who are interested in taking out a loan for other purposes like their child's education, home remodeling or business expansion.
People who are shopping around for a home loan should not take the first offer that they are given. In addition, shopping around doesn't just mean visiting different banks and reading through their loan offerings. A payment calculator like this one is essential. You need to use something like this if you want to make an educated decision. Even if you find that an interest rate is lower with one financial product over another one, once you actually map everything out and take every feature of the loan into account, you might find another offer works out more in your favor even though it did not appear so at first.
Using the Loan Payment Calculator Excel Template
This calculator takes the amount of the loan, the interest rate, the loan period in years and the number of payments in total, and calculates all of these things to determine exactly what your loan payment will be. You should know exactly what you are going to be paying every month before you sign on the dotted line.
People that are refinancing their home mortgage need a calculator like this as well. The reason for this is that it is very hard to visualize exactly what you will be paying when you refinance your home. Some people can do math in their heads, but even if you can, you should always double check by calculating everything out on paper. This loan payment calculator is a great way to do this. In addition, it's easy to understand and also a very neat and tidy way to keep records.
You can use this loan payment calculator to calculate loans of up to 40 years or 480 monthly payments, so it is perfect for almost any loan calculation. This includes loans for other purposes like college loans, business loans and personal loans. If you are smart, you will shop around before you accept any loan terms and you will use a calculator like this one to help you to do that.
Download: Loan Payment Calculator Excel
Related Templates:
X
Your free template will download in
5 seconds
.
View this offer while you wait!