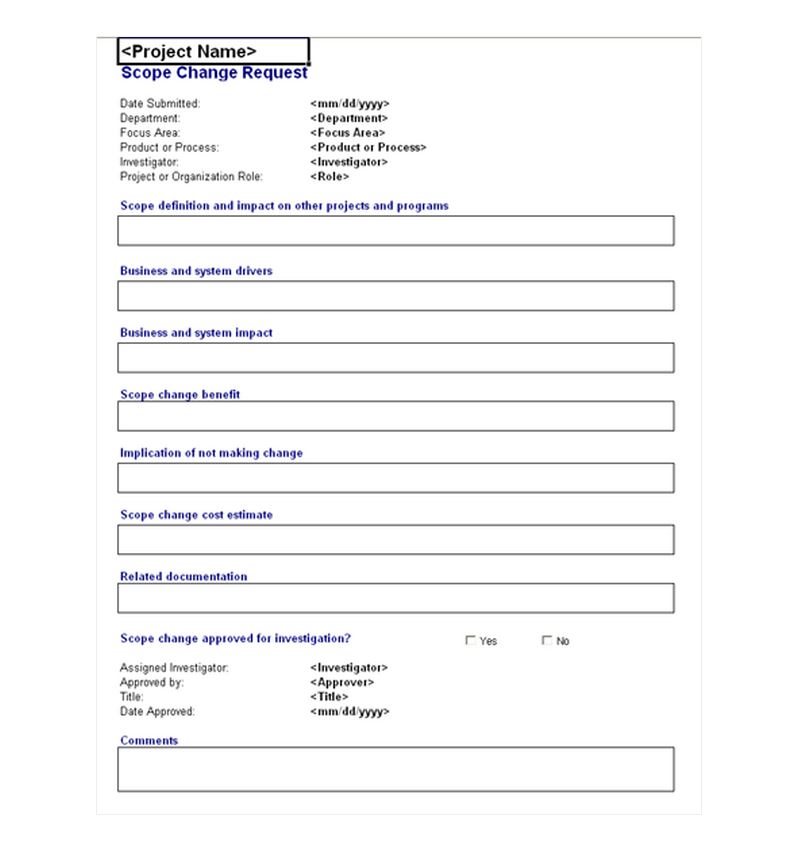 Changes in the scope are a necessary part of any project, and it is important to any business that those changes are communicated effectively. By downloading the Change Request Form Template, you can insure that the details of any project changes can be submitted for review and approval in a concise, well developed, professional format.
How to Use the Change Request Form Template
There are infinite types of changes that will need to be addressed in any project and it can be confusing to identify how each change may affect different parts of your business. It can also be very time consuming trying to organize the details of the changes into information needed to make important decisions. The Change Request Form Template is designed to organize the details into usable information saving you both time and money. Download it here today and have convenient, free access to a fully customizable, easy to use Change Request Form.
First, download the free, fully customizable template and save to your documents for convenient access.
Next, before you begin adding information to the form, go to the File tab in the upper right hand of your screen, and select Save-As and rename the file so your template will stay blank for future use.
Tips for Using the Change Request Form Template
First, complete the top portion of the form with the project information including: Project name, Date submitted use: mm/dd/yyyy, Department, Focus Area, Product or Process, Investigator and Project or Organization role.
Next, complete the middle section of the form with the changes that are needed to the scope of the project. Because of the countless types of changes that may needed, you want to complete this section with as many specific details as you have in the following sections: Scope definition and impact on other projects and programs, Business and system drivers, Business and system impact, Scope change benefit, Implication of not making change, Scope change cost estimate, and finally list any related documentation that will accompany the request.
Finally, once complete, the Change Request Form can be submitted and assigned to an investigator for approval.
Changes are inevitable in any project, but they don't have to slow you down. Download the free, fully customizable, easy to use Change Request Form Template and make project changes just another step in your day.
Download: Change Request Form Template
Related Templates:
X
Your free template will download in
5 seconds
.
View this offer while you wait!