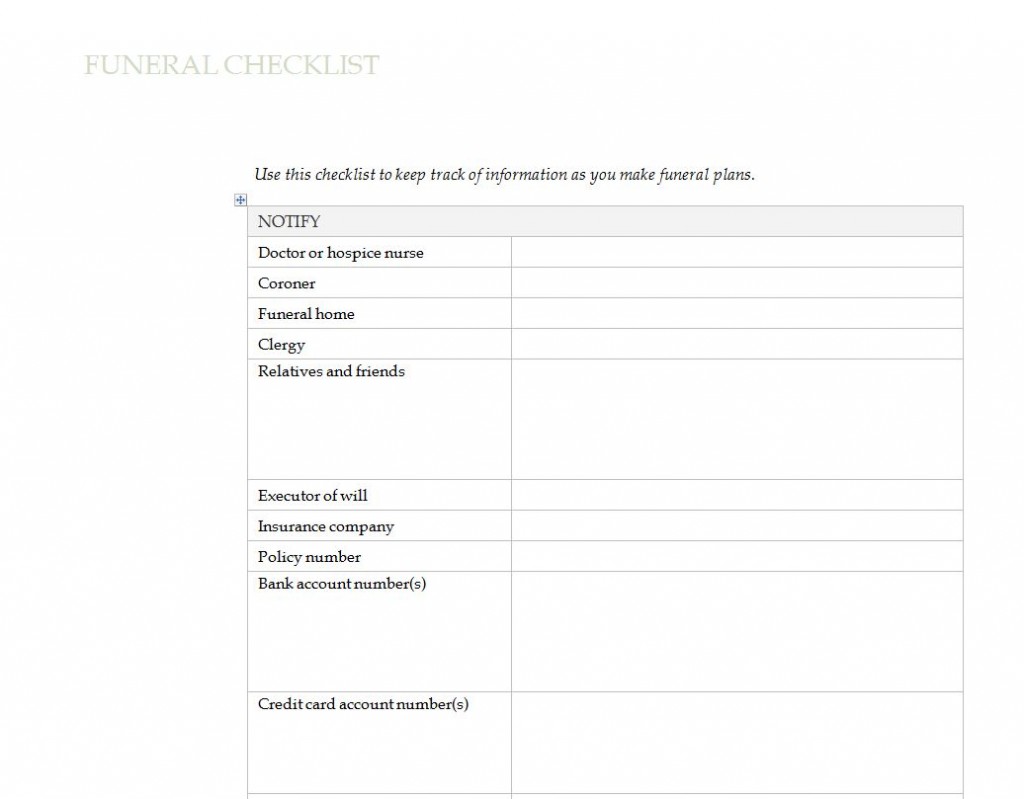 Though generally we never consider them, end of life issues are a part of daily living. It is not understood that death and funerals are what is the culmination of the human experience. There is seldom a "well-planned" funeral. Most of the time, they are executed by persons in situations of grief, and duress, and at worst, poorly executed. A funeral planning checklist can be an effective tool to alleviate stress at a time where families really need to gather and reflect in a positive manner.
A funeral planning checklist is a gift that can be given without the hassle of money and long lines. The one who decides to use a funeral planning checklist has the best interest of loved ones in mind. This tool is an addition to a will or executorship, and allows for some prudent planning for the inevitable. Death is never pleasant, but it needn't ever be a headache for those left behind.
Using the Funeral Planning Checklist
A funeral planning checklist can be customized and downloaded from this page. This can become a valuable written testament for the deceased last wishes apart from a will or executorship. A funeral planning checklist is a sensible document that allows anyone to create their own memorial with listing for music, preferences for flowers and funeral services, minister preferences, and even can chart what is to be done with the remains, and repast if desired. A funeral planning checklist takes the guesswork and the stress out of an incident in which death can occur suddenly, or the person in question is not able to vocalize their wishes at the time.
The checklist once downloaded and customized can be filled in and printed from the computer. It would be a good idea to place several copies with the will or executorship papers, as well as dispense them to significant persons who will be left in charge. This page provides a good working checklist that will cover all aspects of funeral planning and can create a piece of mind in the midst of a time of what could be a deep sense of loss, and confusion.
Download: Funeral Planning Checklist
Related Templates:
X
Your free template will download in
5 seconds
.
View this offer while you wait!