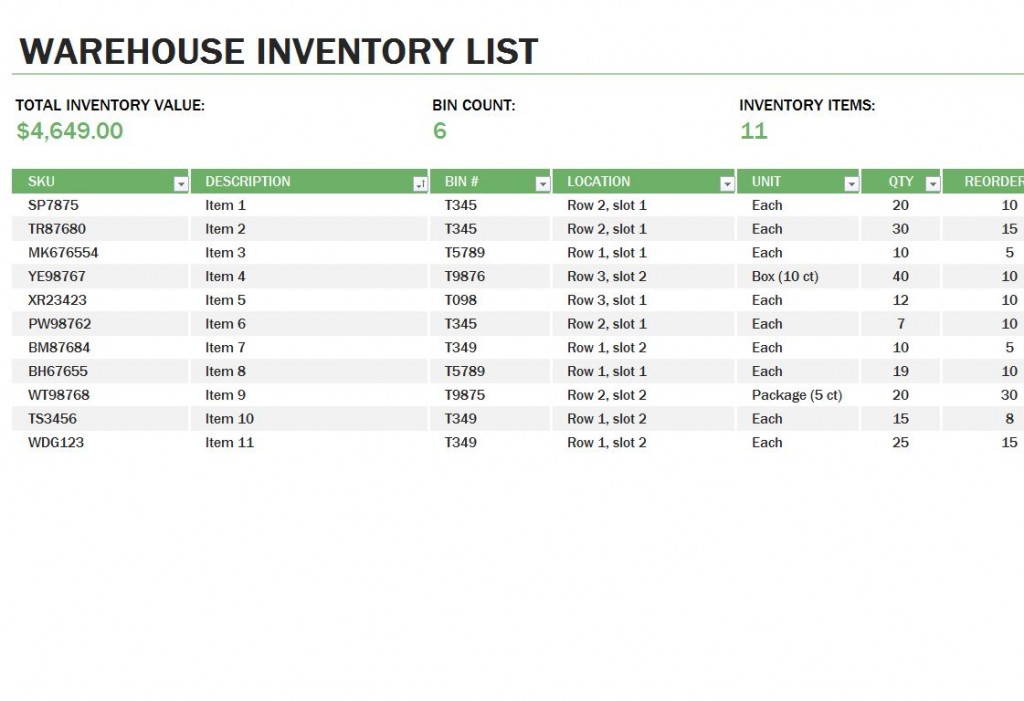 One of the most important duties that a warehouse manager needs to assure is done correctly – is the inventory. Since most warehouses contain rows of shelves with products, a system must be maintained to properly record items that leave the warehouse, as well as items that are brought in.
To help keep everything in a warehouse organized and stored properly, an inventory list is often used to manage item count throughout the warehouse. This helps avoid confusion in the shipping area, as well as an easy way to locate items. You can download the warehouse inventory template on this page for free. It is easy-to-use and customize with your own details, and you can even print out a pick list. Compatible with Microsoft Excel 2013.
How to Use the Warehouse Inventory Template
Download the warehouse inventory template to your computer, and save it to a folder of your choice or to the desktop.
Find the file and open it so you can begin editing the spreadsheet with your own information.
The template has three pages. The first page is the warehouse inventory list. Here you will see columns for the SKU, description, BIN#, location, quantity, inventory value, and other helpful fields.
Page two is the inventory pick list. Once it is completed you can sort the list in alphabetical order, and you can print out a copy.
The third page is the bin lookup. The table on this page provides data for the inventory list, and for the pick list sheet. It includes columns with helpful fields you can edit such as bin location along with width, height, and length. You can also edit the description fields, which lets anyone know if it is a large bin or small bin.
Tips for Using the Warehouse Inventory Template
The template can be customized to keep track of the inventory in the whole warehouse or in certain areas only. It includes the ability to be flagged when its time to reorder so there should be no issues running short on an item.
A good idea might be to reorder when the count has reached a certain amount to make up for shipping delays.
The warehouse inventory template can be used by any company for inventory needs. It helps with shipments, and the organization of stocked items. It also helps as a safety measure letting employees know the location, and the size of the bins.
Download: Warehouse Inventory
Related Templates:
X
Your free template will download in
5 seconds
.
View this offer while you wait!