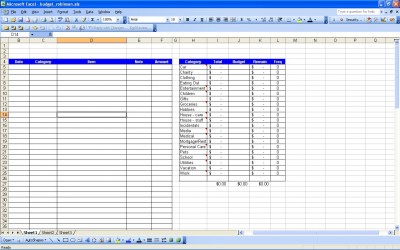 Money has been tight at home for a couple of years now, real tight. Your regular income source is, well, stagnant. The dollars going out routinely exceed those coming in. You have looked for opportunities to increase household income, which helped, but did not eliminate the need to economize. Now, you and your spouse have taken the step of creating a real, to the point, household budget. Creating a budget is easy with the daily expenses tracker. The template will even help save you money because you can download the daily expenses spreadsheet for free!
Creating a Budget with the Daily Expenses Tracker
You spent an entire weekend analyzing and grouping your household expenditures and comparing that total against the family income. Perhaps you are even a little smug because you both were able to identify and eliminate some non-productive expenditures. Still, it took considerable effort to squeeze those essential expenditures down to fit within your income.
It is stiff but you have a budget that functions…on paper. In the past you have done this exercise and walked away at this point. This time you both are serious, you intend to live within that budget! Just how are you going to keep yourself honest and on-target?
Tracking a Budget with the Daily Expenses Spreadsheet
You will need to categorize and record those expenses each day, every day, to track that commitment. A daily expenses tracker is essential: it is cleaner that a wad of receipts in your pocket, more reliable than your memory, and more timely than a credit card statement. Thankfully a template is available in an accessible spreadsheet format, that gives you the flexibility of tailoring a daily expenses tracker to your unique budget demands. The template format, edited to your needs, allows you to promptly and accurately record those everyday purchases.
It is a faithful reminder of that promise you made to get control of your money. No budget is complete without follow-through; the discipline that can only be obtained with a daily expenses tracker.
Download: Daily Expenses Tracker
Related Templates:
X
Your free template will download in
5 seconds
.
View this offer while you wait!