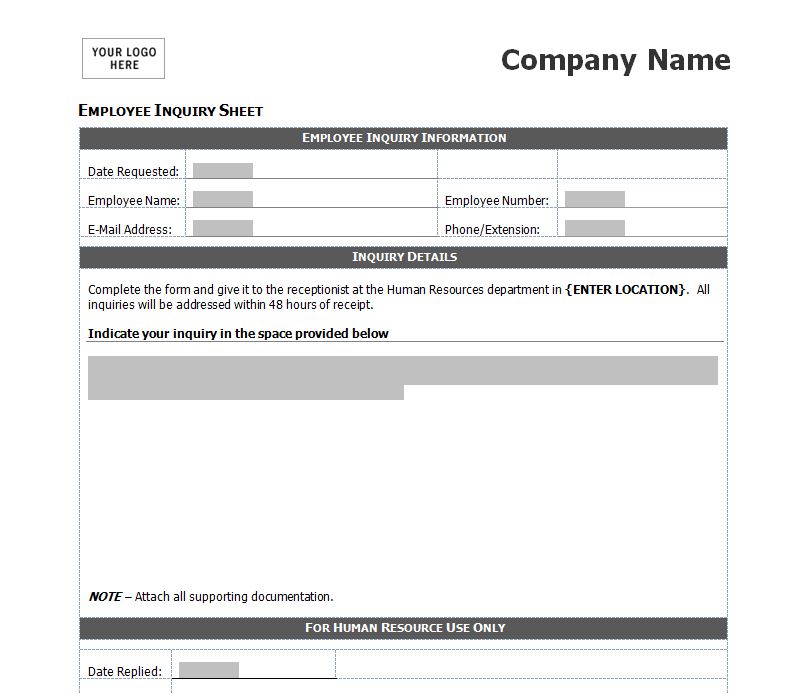 Within a successful company or business relationship, and really any relationship, communication is key! A company can be metaphorically considered a giant ship sailing on the high seas. In order to keep the ship running smoothly and efficiently, workers and employers must communicate with one another to make sure everyone's needs are met. It is sometimes hard to remember the many needs of employees, especially when a company employs a substantial amount of people. That is why you should always have a basic employee inquiry form to keep your ship well-oiled and your company running speedily and efficiently! This can be accomplished with the employee inquiry form. Download it for free on this page!
Organized Employee Feedback with the Employee Inquiry Form
Often times, employee requests, inquiries, or concerns arrive in many different formats whether it be a verbal indication, letter or email. This employee inquiry form template ensures that the confusion that comes from so many different types of employee communication is a thing of the past. This Employee Inquiry Form simply outlines the name of the employee, their employee ID or number, email address where they can be easily reached, the date of the inquiry and their telephone number. Below the standard employee information, there is an area of the employee inquiry form designated for "Inquiry Details." This is the most substantial area within the form to ensure that the inquiry is detailed and outlined completely by the employee. It is noted on the employee inquiry form that all other documentation supporting the inquiry can be attached. This allows the employee to add any and all additional information to support their claim or inquiry.
This employee form can than be sent to the Human Resources department within a company so that the department can review the inquiry and take the necessary steps to meet the employee's needs. By keeping all employee inquiries outlined in this format, you are ensuring that the human resources department can quickly organize and log employee inquiries and ensure expedited feedback.
Start Using Your Employee Inquiry Form Template Today!
Download your free, customizable Employee Inquiry Form template and start organizing your business and improving workplace relations within your company! The first step to success is open communication and organization. This template will help you manage workplace satisfaction and demands.
Download: Employee Inquiry Form
Related Templates:
X
Your free template will download in
5 seconds
.
View this offer while you wait!