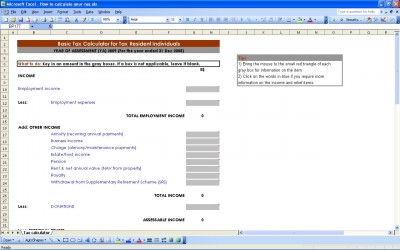 This convenient single page excel worksheet acts as a Singapore basic tax calculator, providing the amount payable from income tax during the tax year which ended on December 31st, 2008.
The worksheet was created by the Inland Revenue Authority of Singapore, allowing you to trust in its legal accuracy. Within the calculator, every term is carefully defined, and many of the terms link to even more explicit instructions and definitions; however, only the minimum text necessary is shown on the sheet itself, eliminating all unnecessary legalistic clutter.
Keeping It Simple for You with the Singapore Basic Tax Calculator
Tax preparation is challenging enough without it being confusing to even figure out what you need to calculate. You don't need to deal with the math or the legalese; you need to look up the right documents and find the right numbers. This calculator does all the rest for you. Just follow the instructions, and you'll be able to determine your income tax amount.
There's even a handy chart giving you more information on the rates of tax by income level, so you can follow and double-check the logic of the calculations yourself.
Easy to Use, for the Individual or Tax Preparation Expert
To figure out your income tax with this Singapore basic tax calculator, all you need to do is put your information in the boxes. If you don't know what the terms mean, just hover your cursor over the red corners of the box and more specific instructions instantly appear; for more information still, every term colored blue acts as a hyperlink to the government website that gives you the inside scoop on the tax process. After you're done, just look in the box that says "Net Tax Payable" and rest assured that the calculating has been done for you.
Related Templates:
X
Your free template will download in
5 seconds
.
View this offer while you wait!