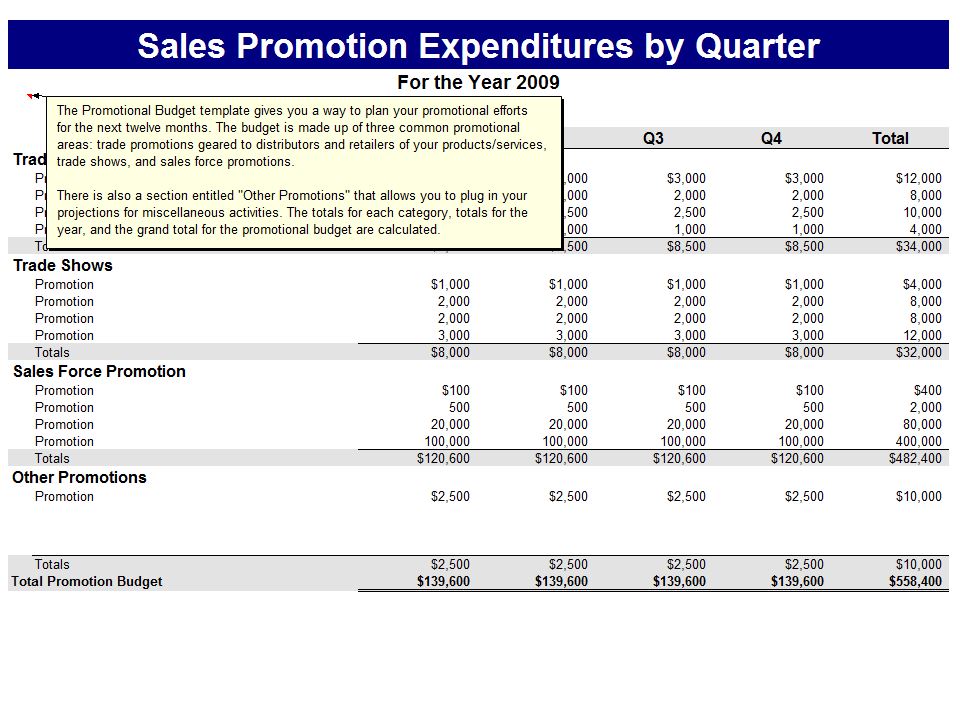 Documenting monetary information is an extremely important step when running a small business, fundraiser, charity, or other organization that relies on money. In sales, tracking costs, expenditures, and profits is extremely important. Tracking money allocated to specific agendas, like promotions, is equally important when building a quarterly or yearly budget that must be adhered to closely. The promotions budget template is intended to help you allocate, calculate, and review funds and totals in an easily-viewed format that can be edited or altered efficiently to suit you or your company's needs.
The Promotions Budget Template is Easy to Use
The promotions budget template is easily accessible, fully customizable, completely free, and can be downloaded directly from the page you are viewing right now. There are no long-term attachments to downloading the template, and it is designed to be used by professionals of varying levels of competence with spreadsheets.
Before downloading, make sure your computer has a copy of Excel 2007 or later. Calc, or open source software similar to OpenOffice, may be sufficient but is not officially supported. If you have the necessary software, you are free to download the promotions budget template. Click the download button and follow the steps that follow. Once downloaded, you can open the promotions budget template.
Tips for Using the Promotions Budget Template
Once the template is downloaded and opened in Excel, or with similar software, it can be customized and edited however you desire. To enter information into a cell, or a space designated by the small aligned squares, simply double click the cell and enter information. The template will automatically perform calculations that will appear under the totals column.
If you are not satisfied with the template's layout you can customize it to you or your company's needs. For instance, you can eliminate the Q4 column or any other column you wish, change font sizes, highlight totals in a different color, and much more. The promotions budget template is designed to be as accessible as possible, but it can be transformed to suit a range of aesthetic styles or other requirements.
Download: Promotions Budget Template
Related Templates:
X
Your free template will download in
5 seconds
.
View this offer while you wait!