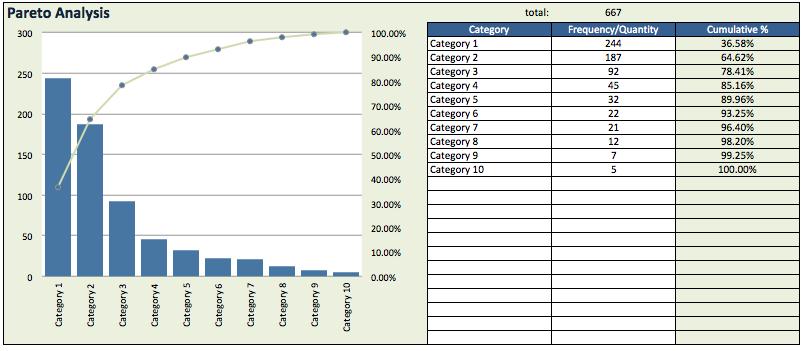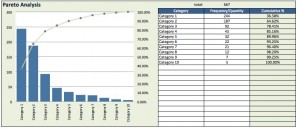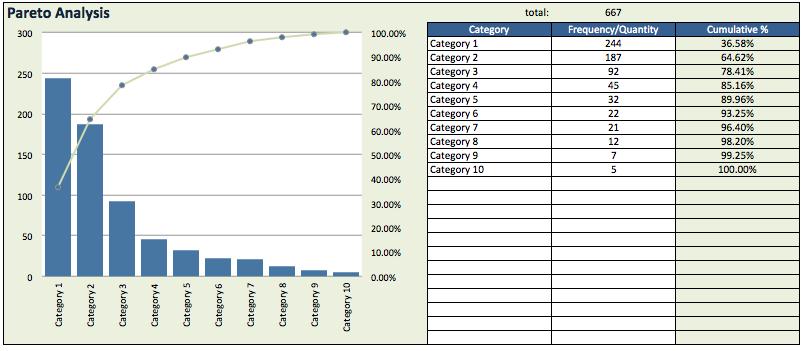 In businesses, politics and risks analysis, it is vital to track different variables and useful data for the decision making process and problem solution. Unfortunately managers and people in charge, constantly loose the overall vision and focus of tiny details with low importance priority. They tend to leave aside critical factors that need to be addressed immediately due to the impact they have for achieving the desired goals.
Even if non crucial variables might require future actions, they can be attended to later. But, how can one identify those variables and assign the adequate amount of priority to them? There are several tools available to do so, but a very easy and practical one is using the Pareto analysis chart Excel template.
Pareto analysis is based on the assumption that 80% of the effects are originated by 20% of the causes, which represents the significant priorities in which the attention should be focused on. So, Pareto analysis chart Excel template is an amazing tool that can be used for detecting clearly and easily the origin of customer complaints. This template can also help with the root issues in regards to product defects, investment opportunities, skills that need to be developed or improved upon with a working team, or identify who are the most convenient suppliers for a company.
Pareto Excel Chart Template will allow everyone to create a typical Pareto diagram which consists of a bar chart arranged in a descending order from left to right. In it, the causes that are placed on the left will be of high priority, while the ones on the right will be considered the more insignificant tasks. The Excel chart will show the relative (bars) and the cumulative frequencies (red line).
Definitely, for its simplicity and efficiency, Pareto Excel Template is an unparalleled tool for having a better understanding of problems, detecting relevant factors, being more assertive on where to focus the efforts and have a better way of assigning limited resources. Besides, it is for free. What else can one ask for? Just make the decision to start using it, and one will be able to use the benefits of the template immediately.
Download: pareto-analysis-chart-excel-template
Related Templates:
X
Your free template will download in
5 seconds
.
View this offer while you wait!