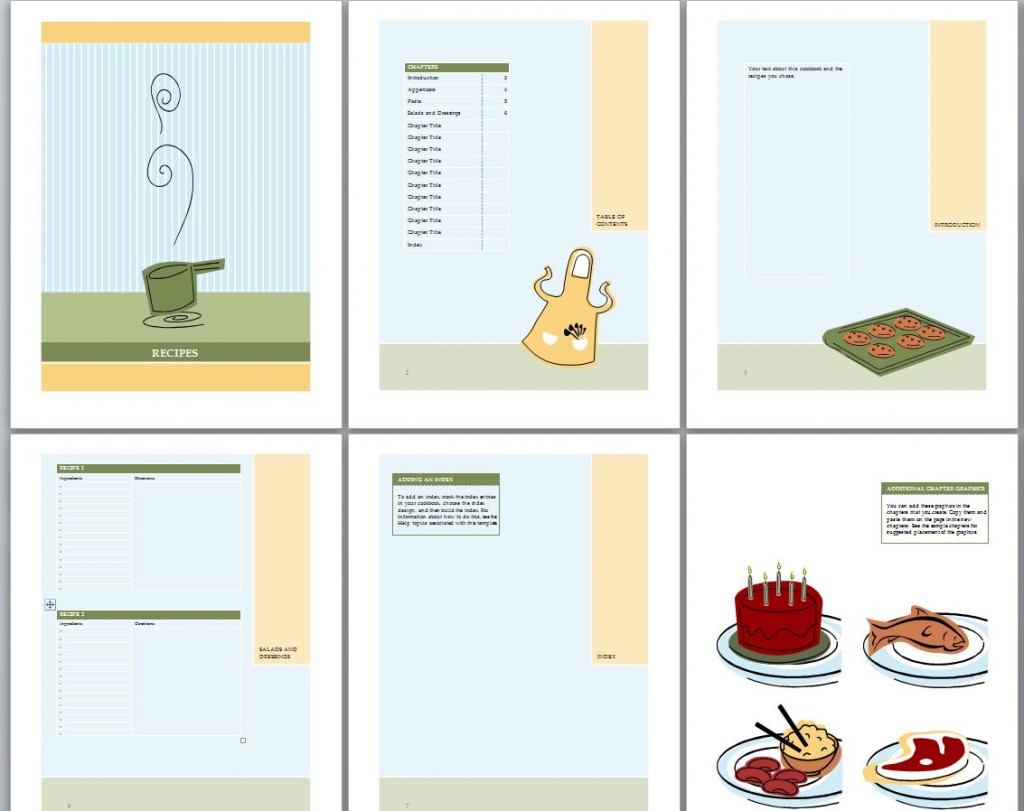 If you are an avid chef, you can help yourself out by moving your work into the digital age. This way, your creations can be stored into a series of files, rather than a physical cookbook that you only have one copy of. By using a cookbook template, you can also share your recipes with anybody you like, or transfer various copies of the recipes amongst your different devices.
People use cell phones, tablets and other devices more than ever, so what better way to make sure that you always have your recipes on you than to make sure that you have all your recipes backed up in a digital format?
Using the Microsoft Cookbook Template
You can customize this cookbook template however you would like, changing everything from the ingredients to the times that you will have to leave the oven on. No matter what type of food that you specialize in, you will get a lot of use out of a cookbook template. You can make these cookbook template sheets whatever you want, using them for anything from desserts and main courses to alcoholic beverage mixing recipes. The template is whatever you want it to be, so you are able to make the most out of the situation.
One of the best parts about these templates is that they are free. You can simply download it and use it as you please, without having to sign up for anything. You will be able to just log onto the site and make the most of it, rather than become a member of provide credit card information. People who love cooking will also love this cookbook template, because it is so convenient and versatile. You can pass your recipes along to your best friends and family, while also creating archives of the best recipes that you use on a regular basis.
The file itself is very easy to use. You do not have to be a computer expert to be able to get the most out of your work. You can add to the sheets easily and customize your recipes down to the last little ingredient. There are plenty of people who have gotten the most out of these templates and enjoy using them for a number of purposes. If this is what you need, make sure that you do everything in your power to use this recipe template to your advantage. Your kitchen will never be the same!
Download: Cookbook Template
Related Templates:
X
Your free template will download in
5 seconds
.
View this offer while you wait!