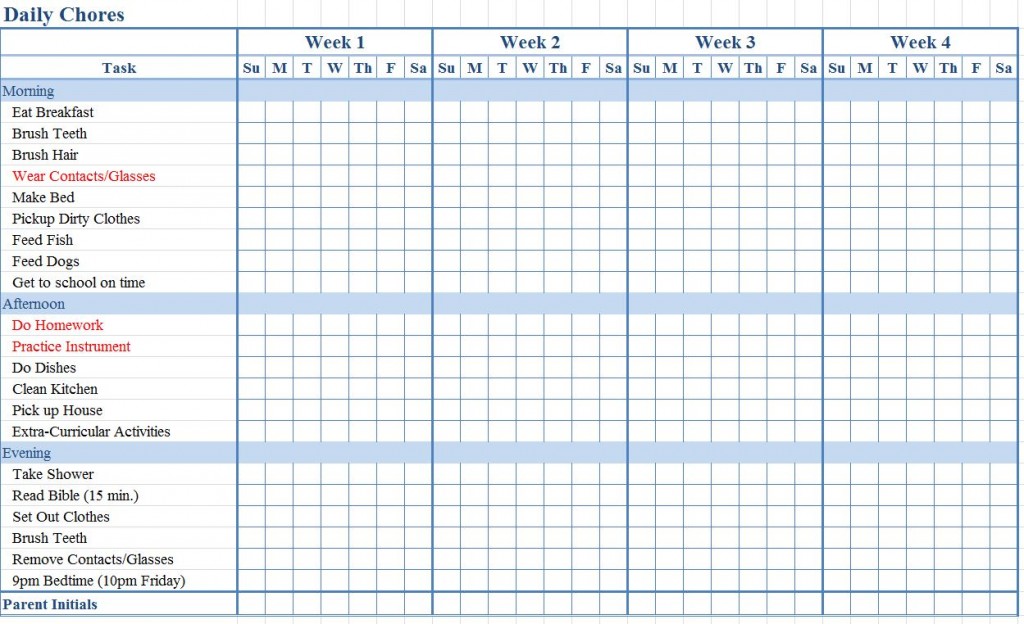 Helping children learn to accomplish household chores is a great way to teach them about the importance of responsibility. Using a chore chart for kids gives them the opportunity to visualize each of their jobs and provides them with a sense of completion when their tasks are finished.
Placing a chore chart for kids in a prominent location in the home will also help them keep track of the progress they are making throughout the day or week by allowing them to see which jobs have been accomplished and which still need to be done. This ensures that each task is accounted for and completed on schedule. Placing a sticker or other colorful marker next to each finished chore gives the child a sense of pride in a job well done and helps them know which chores they are responsible for next.
By downloading a customizable children's chore chart for free from this page, household duties can be clearly defined and displayed for the entire household to see.
Benefits of Using the Chore Chart for Kids Template
The template is free and can be downloaded from this page.
The chore chart template is fully customizable, allowing each family to personalize it according to their needs and lifestyle.
The template is fast and convenient which means it can be ready for display right after printing.
The chart tracks chores for a full month (four weeks), which allows progress to be charted, and rewarded, over an extended period of time. It also provides a longer time frame for planning and organizing family chores.
The chore chart is easy-to-use. Simply download for free from this page, save the template, customize, and print.
Uses for the Chore Chart for Kids Template
Each customizable chore chart can display a variety of tasks including:
Getting dressed and brushing teeth.
Making beds and room cleaning.
Taking out the trash.
Clearing the table and doing the dishes.
Feeding, walking or bathing the family pets.
Doing homework, finishing reports and completing school assignments.
Silent reading.
Finishing yard work, raking leaves or cutting the grass.
Doing laundry, folding, and putting away clothes.
Sweeping, mopping and dusting.
Any task or chore that a child needs a special focus on or that is repeated regularly.
Creating and displaying a customizable chore chart for kids will help every household increase its organization while also allowing children to learn the importance of sharing in the family responsibilities.
Download: Chore Chart for Kids
Related Templates:
X
Your free template will download in
5 seconds
.
View this offer while you wait!