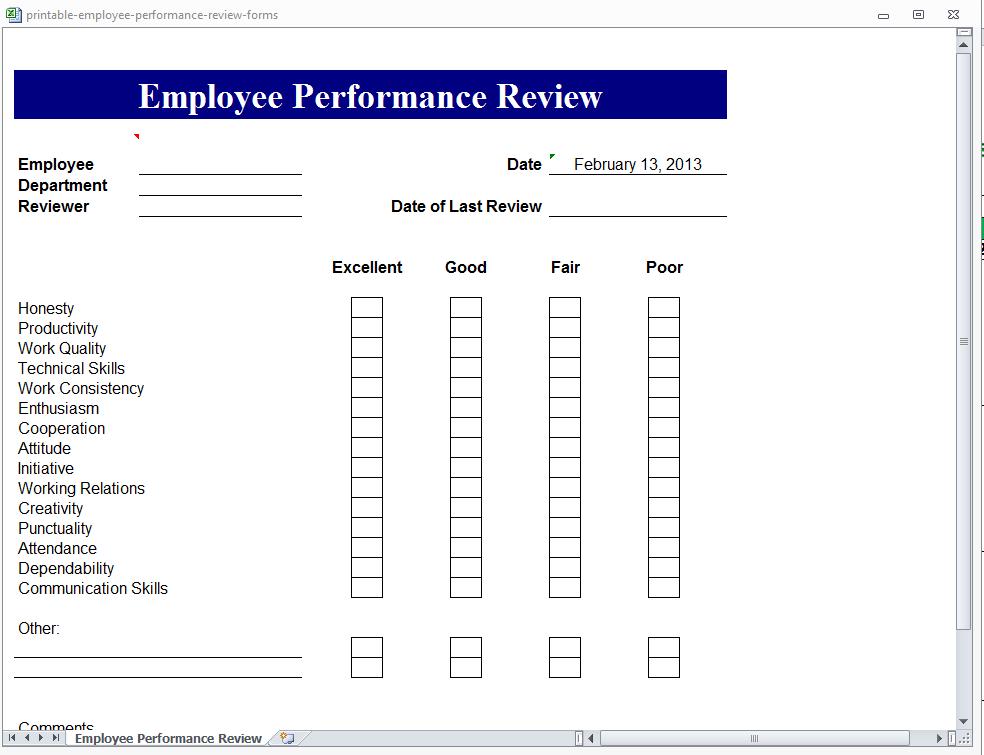 Regardless of the kind of vision you have projected for your company's financial future success, it tends to be the people you employ who make the financial say in business success or failure.
But for every dozen incredibly skilled, highly-driven employee that walks through your business doors, there are a few cracked eggs that manage to seem to find their way into the carton. And when gone unchecked, left to fester in a pool of bad habits and dishonesty, those putrid eggs can infiltrate and poison their surroundings.
And when the time arrives for you to "weed out" the bad eggs, employee performance reviews play an integral role in maintaining a certain amount of business productivity. However, when managers and business owners come unprepared to employee performance reviews, all too often a familiar (but unfortunate) scene plays out:
Without the right questioning, concern or assessment, many bad habits can go unseen, allowing those habits a wide gateway for continuing to be problematic.
With ExcelTemplates.net's Printable Employee Performance Review Forms, business owners can effectively – and concisely – manage individual employee performances, and gather an overarching picture of company strengths and weaknesses.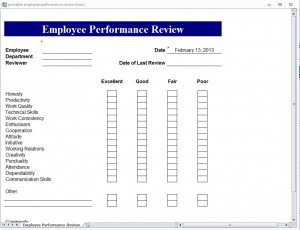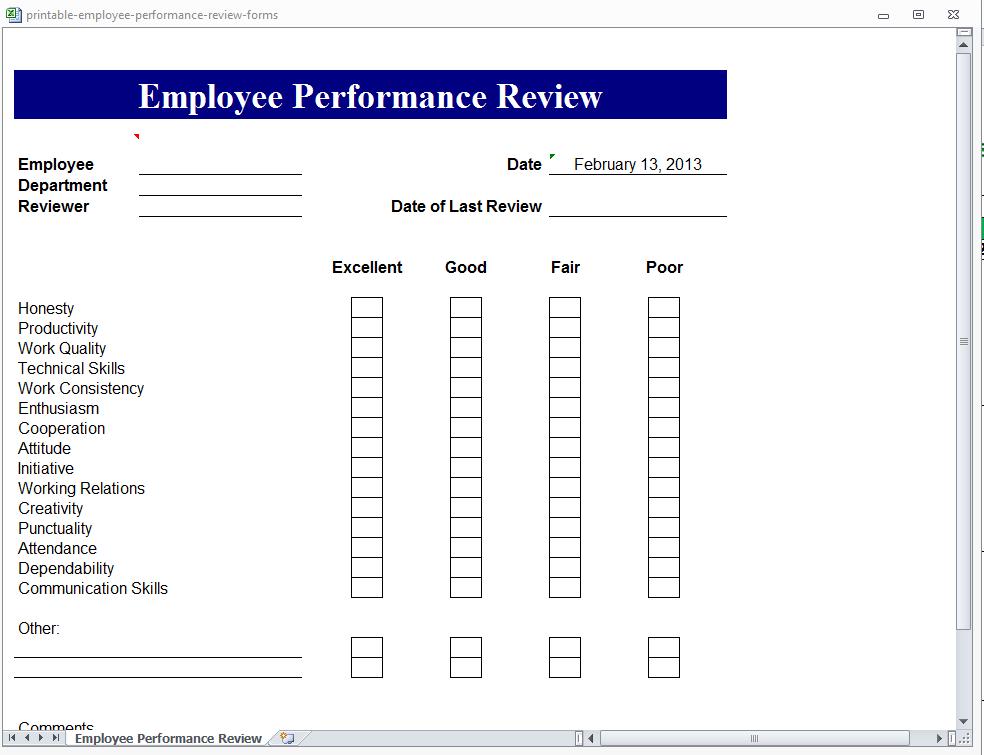 You can get Printable Employee Performance Review Forms at no charge here.
Strategizing Business Success with Printable Employee Performance Review Forms
Employee performance reviews can be a stressful series of events, both for employees and employers.
Employees, placed under the hot seat, are praised, questioned and criticized from nearly every facet of their work. From honesty and dependability, to time management and productivity, employees are either given the green light for future projects, or instructed to alter their habits.
But for employers, this task tends to be equally as daunting. Performance reviews are synonymous with a certain amount of expectation, as managers are left with the difficult task of extracting bad habits from the workplace, and inserting newer, more productive tendencies.
With Printable Employee Performance Review Forms from ExcelTemplates.net, employers can effectively gage individual employee strengths and weaknesses through:
Honesty
Productivity
Technical Skills
Work Consistency
Enthusiasm
Cooperation
Attitude
Initiative
 Tips for Conducting a Successful Employee Performance Review
Plan meetings in advance. Allow your employees ample time for reflection before they're forced to sit in the hot seat.
Ensure the reviews are a priority. Although an employee performance review might seem somewhat in vain, conducting these measures are crucial to your company's financial success.
Download: Printable Employee Performance Review Forms
Related Templates:
X
Your free template will download in
5 seconds
.
View this offer while you wait!