A timesheet calculator template is awesome for individuals and small businesses that need to keep up with employee hours, for people that run their own home business and want to keep up with the work that they are doing as freelancers. The template is also great for college students that are learning business management and learning to become human resource professionals.
Using the Timesheet Calculator Template
Stats show that people that run small businesses generally have less than 50 employees. Many of them have less than 10. Because of this, there is no need for a huge complicated computer system or time card system to keep up with and manage employee hours. Your receptionist could manage this information by collecting employee time sheets every week. This is a great, and a free calculator template that will well with most small business needs. It's one less thing that you have to worry about or manage.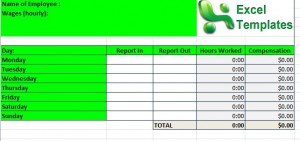 Sometimes people that work from home as freelancers are paid hourly. Sometimes they are paid for the work that they produce. Even if they are paid only for the work that they produce, sometimes they want to keep up with the hours they are working just to see how much they are earning each hour. This helps them at tax time and also helps them to see which employer or contractor is paying them fairly. If a freelancer is paid on an hourly basis, these time sheets provide them with a very professional way to keep up with their hours and invoice their clients.
People that are learning how to manage employees or work in human resources need to understand how to keep up with employee hours. They also need to understand what employees are going through in order to manage them effectively. Understanding basic time sheets can be part of this learning process.
One major benefit to this calculator template is that it is absolutely free for you to download and use. Even if you have an old used computer, this time sheet is completely compatible with your system, because even if you don't have the most modern form of Windows, Open Office is a free, open source application that is easy for anyone to use and is compatible with operating systems as far back as the first and second version of Windows.
Download: Timesheet Calculator Template
Related Templates:
X
Your free template will download in
5 seconds
.
View this offer while you wait!