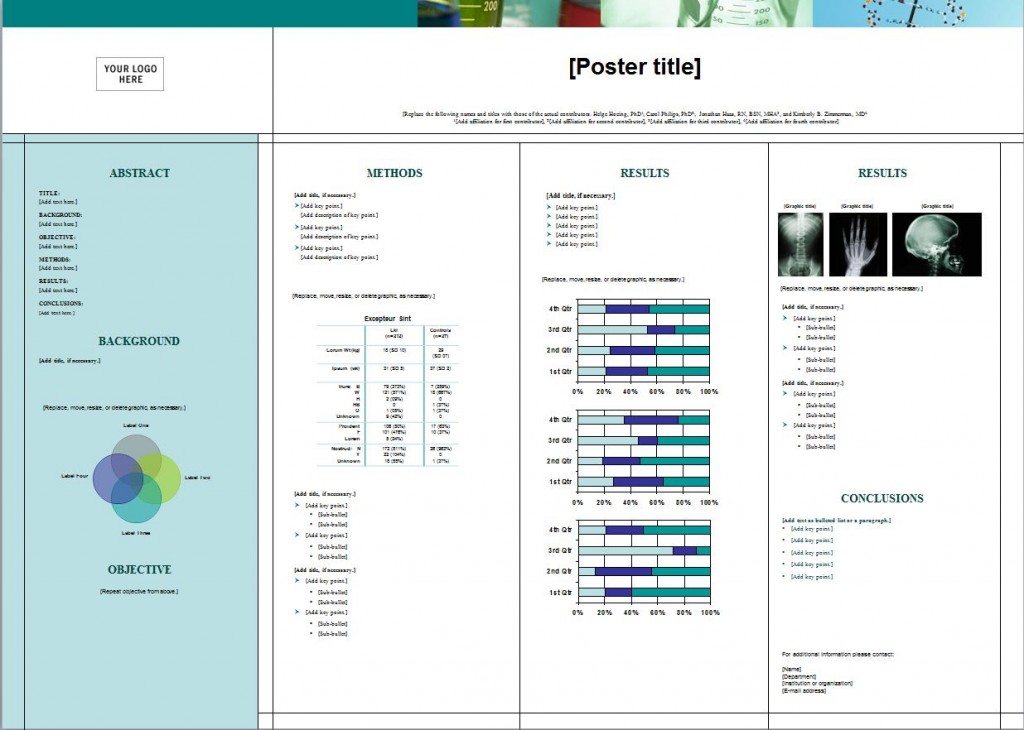 If you have a medical or scientific conference to attend, you may be asked to present a scientific poster. This is a brief overview of your research and shows a graphical presentation of your findings. The free Scientific Poster Template will make organizing this a breeze for you. This is perfect for a first time presenter.
How to Use the Scientific Poster Template
This is a free and easy to use template. Once you download this template from this site, you will be able to customize it in PowerPoint to your specific needs.
Once you have opened the presentation, you will see where you can input your own company logo. Right click the image and select change picture. Select your logo and you can re-size as needed.
Next, you can update the title name of the poster.
Directly underneath is a listing of names. These are the names of the contributors and their respective affiliations.
Your Scientific Poster Template poster has four columns: Abstract and Background, Method, and two results columns. Sometimes the abstract can be omitted. If not, it is just a simple summary of each column. This should not be more than 400 words.
Below the Abstract is the Background. This simply summarizes what is known and what should be addressed. Next, input any diagrams below.
The Method column describes and experimental procedures and has ample spacing for charts.
Your Results column describes detailed results. You have space here also for graphs, pictures, and diagrams. Finally, you can end with your conclusion.
In the bottom right corner you can list the contact information, including at minimum your name, department, organization, and email address.
Tips for Using the Scientific Poster Template
One main thing for Scientific Posters is that people should have a good idea and understanding of your research in generally five minutes. Anything longer means you have too much information.
Pictures and graphs are definitely encouraged for scientific posters. This Scientific Poster Template is a reference point. Any graphs and charts you can provide to support your findings are much better than paragraphs.
The Scientific Poster Template found here is an excellent start to your next scientific conference.
Download: Scientific Poster Template
Related Templates:
X
Your free template will download in
5 seconds
.
View this offer while you wait!