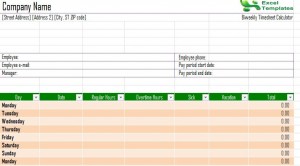 A biweekly timesheet calculator is perfect for employers or employees who operate their schedule and paydays on a two-week basis. This, along with hundreds of other calculators, templates and spreadsheets, is available for instant download and is completely complimentary.
Using the Biweekly Timesheet Calculator
This timesheet calculator has options for everything you could possibly want of imagine. However, if the options are enough or there are too many, the template is totally customizable, so feel free to add to or remove from the calculator as you see fit.
Filling out the timesheet calculator is an extraordinarily easy process. To begin, you will input the name of your company or business in the top left-hand corner. Below, you will put the physical address of the business, including the city, state and zip code.
The next section is dedicated to inputting the employee information. This section includes the employee name, employee's email address, the employee phone number, the manager of the department, the start date of the pay period and the end date of the pay period.
Below the employee section is the actual timesheet calculator. The first column is dedicated for the days of the two-week period, beginning with a Monday and ending on a Sunday. The next column is for marking down the date worked. The ensuing columns are for the actual hours worked. There is a column for regular hours worked, overtime hours worked, sick time used and vacation time used.
Once all of this information has been typed into the template, the calculator will automatically display the results in the Total column for each individual day. When all the information for the two-week period has been submitted, the totals for all the individual columns will be revealed at the bottom.
Below the totals is an area reserved for inputting the rate per hour. Once this has been input, the template will calculate the amount of money earned based on the rate per hour and the number of hours work. This information will be displayed in the Total Pay column.
Once all the information has been carefully reviewed and approved, there is space at the bottom of the template reserved for the signatures of both the employee and the manager.
Download: Biweekly Timesheet Calculator
Related Templates:
X
Your free template will download in
5 seconds
.
View this offer while you wait!