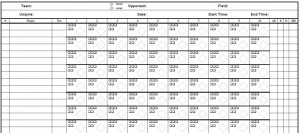 One of the best things about the game of baseball is the fact that the story of a single team, series or season can be re-told through statistics. You can look at any baseball scorecard from any game in history and get a feel for how the game played out and how the game was won or lost. The standard baseball scorecard hasn't changed since the game's inception. Scorekeeping is something that generations of fans have done and have passed down from generation to generation.
A groundball to shortstop looks the same in a scorecard. It doesn't matter if that shortstop was Derek Jeter, Ozzie Smith, Pee Wee Reese or Rabbit Maranville. A grand slam home run looks the same on a scorecard for Babe Ruth as it does for Prince Fielder. A smooth 6-4-3 double play appears the same on the baseball scorecard for Tinkers to Evers to Chance as it did for Concepcion to Morgan to Perez. The baseball scorecard is timeless and classic.
Take for example the baseball scorecard for Game Six of the 1986 World Series. Everyone remembers that game, in which Mookie Wilson's ground ball dribbled through Bill Buckner's legs and allowed Ray Knight to score the improbable game-winning run. That is the moment that is etched into history. If you look at the scorecard, you'll see the complete picture.
You'll see that a Bob Stanley wild pitch before the famous play allowed the tying run to score. You'll also see that Red Sox manager, John McNamara, stayed with relief pitcher Calvin Schiraldi a little too long, allowing the Mets back into contention. You'll also see two other Red Sox errors that occurred earlier in the game. Do you remember how the Red Sox got the lead in the first place? Well take one look at the score card and you'll see that Dave Henderson hit a go ahead homer off Rick Aguilera in the top of the 10th inning.
The baseball scorecard tells the full story.
Download printable-PDF-Baseball-scorecard
Related Templates:
X
Your free template will download in
5 seconds
.
View this offer while you wait!