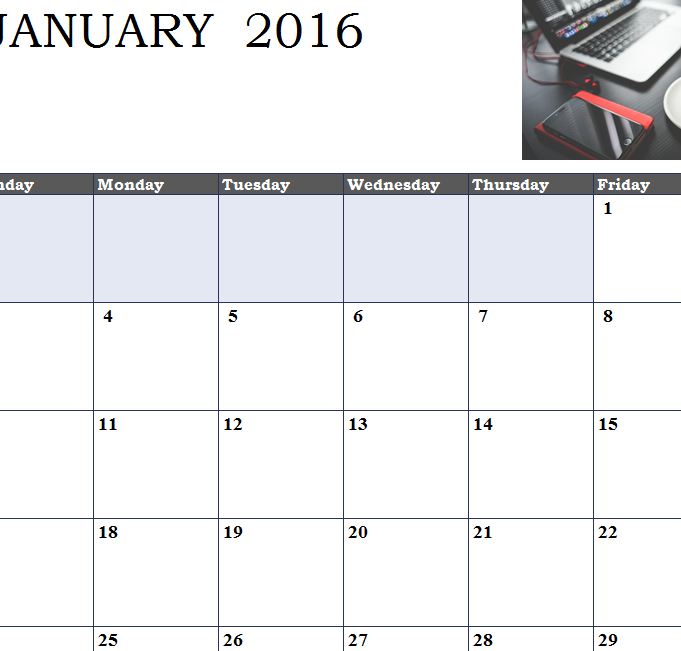 The Social Calendar Template is designed to help you plan, chart, and accomplish any goal or plan with ease. The number one reason plans fall apart is due to poor organization. There are so many things to do in the average person's life and if you don't have a plan, you can lose track of a few of them. This template is structured just like a simple digital calendar. All you need is to go through the months listed and enter the appropriate information, such as an upcoming event. This calendar template can also be re-used for every year into the foreseeable future. Start your journey towards better organization today by downloading the free Calendar Template.
How to Use the Social Calendar Template
The first step is to download the document by clicking on the link provided at the bottom of this page.
Once open, you can begin to edit and change your very own Social Calendar. To start editing, you'll want to enter the current date from the drop-down menus at the top of the page. Enter the month, day, and the year and the document will reformat the calendar automatically for you.
As an added feature, you can choose to have Monday as the first day on the calendar or Sunday, whichever option is more aesthetically pleasing to you.
The design of this template is the same as the average paper calendar. If you want to enter an important date or anything for your schedule, just click on the day you want to schedule something and type it in.
At the bottom of the screen, you'll see a small preview of the past month and the next month. There is also a small space for you to leave notes.
When everything you have planned has been entered into the calendar for the month, you can print the document. To do this, just click "File" and "Print" at the top of your screen.
Make your schedule work for you; download the Social Calendar Template today!
How the Social Calendar Template Helps You
Using the Social Calendar is simply a fast and free way to stay organized this year. Whether it's for your work or your active social life, this template will help you plan and structure your time around any event. If you're tired of things falling through the cracks, then it's time to do something about it. Download this free template today to master your schedule!
Download: Social-Calendar-Template
Related Templates:
X
Your free template will download in
5 seconds
.
View this offer while you wait!