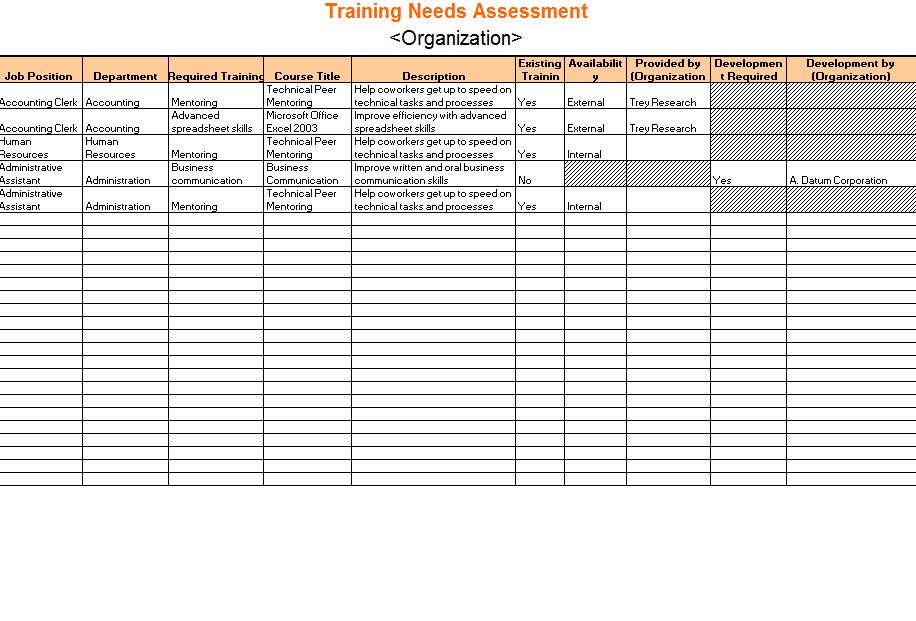 For anyone who is involved in business, creating a comprehensive training needs assessment example can sometimes be exceptionally difficult. However, it is essential. There are many reasons why a training needs assessment example is such an important necessity. In many businesses, it is the benchmark by which people will be measured in order to determine who is performing above and beyond and should therefore have an opportunity to excel in a new position. In other types of businesses, a training needs assessment example is essential in order to conduct training practices that must be adequately performed in order to keep both employees and the general community safe. As such, a training needs assessment example is frequently used by emergency responders and emergency management personnel.
Downloading a Training Needs Assessment Example
The problem is is that many busy supervisors simply do not have the time to create a detailed training needs assessment. Fortunately, it is possible to get one right here and download it immediately. In addition, the assessment is customizable, meaning that it can be used for a wide variety of different situations and for different agencies. Perhaps most importantly, it is exceptionally easy to use, meaning that there is a minimum amount of time that needs to be spent familiarizing oneself with it in order to use it effectively.
Tips for Using the Training Needs Assessment Example
Using the template could not be easier. While it is possible to download it and use it exactly as it is, it can also have certain fields customized to suit individual needs. Because it is entirely customizable, it gives the user the option of which fields to change or if certain fields need to be omitted. All that is required is that it be downloaded in the desired format and then printed out. It can then be used in a wide variety of situations to help supervisors keep track of employee performance.
The ability to keep a paper trail of employee records is vitally important for any type of business. In agencies where training is key, it is even more important. As a result, many different types of businesses have found that using a template such as this makes the entire process much easier and far less time consuming. As more and more is expected from supervisors, this is one way that time can be saved and more projects can be achieved. In addition, both supervisors and employees can benefit from the use of these templates.
Download: Training Needs Assessment Example
Related Templates:
X
Your free template will download in
5 seconds
.
View this offer while you wait!