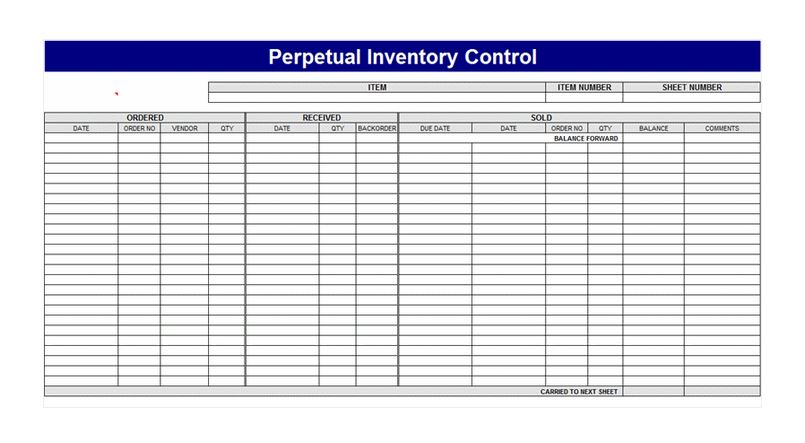 Tracking inventory is part of doing business. There are two main types of inventory control. Periodic inventory control is useful if a company has very few products. For those who have a lot of different products perpetual inventory control is a more accurate way to track inventory. Perpetual inventory control makes tracking what needs ordered and what should go on sale easy. A perpetual system keeps track of product purchases and how much is on hand. To be perpetual, as product is used, it is removed from the control count. Our template will make keeping track of inventory a snap.
Perpetual Inventory Control Template
To use our template, simply download the free file and open with a compatible program such as Excel.
Fill with information that pertains to your business and product. Each time a product is sold, deduct it from the total number available. This template is very user friendly and easy to use for tracking inventory.
When new product is received, enter it into the template and the totals update automatically. There are many reasons to use the perpetual inventory control system. The biggest of which are year-end reports are simple and will be accurate.
When tracking inventory in this manner it is important to have accurate data entered into the system. The old fashion way of keeping track of business inventory was to physically count every product. This method is very time consuming if your business has a lot of products to inventory. Perpetual Inventory Control takes much less time as it is always updated.
By using our template, you too can keep constant track of your inventory and never run out of popular products and see easily what products are not selling. Over or under ordering products can be very costly for any business. Always having popular products on hand will keep customers happy and coming back to purchase.
No business that has product inventory should run out of their best selling products. Perpetual inventory control solves many inventory problems and makes tracking inventory simple. Our template makes it easy to set up and maintain so you know your product bottom line.
Download: Perpetual Inventory Control Template
Related Templates:
X
Your free template will download in
5 seconds
.
View this offer while you wait!